50 Best Interior Designers In Boston
Do you want to revamp your living room with a contemporary open concept? Or perhaps your more ambitious and want to do a complete home refresh? Either way, it's pretty difficult without a clear guide, right? I mean, there are thousands of great designers out there, which can make it overwhelming to say the very least. That's why we've compiled the 50 best interior designers in Boston and their websites. So, what are you waiting for? Let's get this show on the road!
Dane Austin Interior Design
About: Dane Austin is recognized as one of Boston's most dynamic interior designers. A natural curator, Dane brings his signature cool, collected style to every project. Since founding Dane Austin Design in 2009, he has built a lifestyle brand that reflects his thoughtfully layered aesthetic. Today, Dane Austin Design is an award-winning, luxury residential interior design firm that has gained considerable acclaim for its one-of-a-kind interiors, exceptional customer service, and extraordinary custom furniture designs.
Website: https://daneaustindesign.com/
Elms Interior Design
About: Dee Elms is a leader in the Boston design community, and her work has been featured in many regional and national publications. The firm's multi-disciplinary practice combines design, architecture, and craftsmanship to manage transformations of any complexity and scale. Their network of talented partners includes leading architects, engineers, and craftspeople who share our dedication to exceptional, highly finished work.
Website: https://elmsid.com/
Grace Interiors
About: Shannon was born and raised in Dallas, Texas where the esthetic is emphasized in design including fashion, interiors, exteriors, and entertaining. Her exposure to art, dance, theater, music, and travel is the cornerstone of her design philosophy.
Website: https://graceinteriors.vn/
Studio Verticale & Baxter Boston
About: Studio Verticale is a Boston based Interior Design & Baxter Showroom that offers luxury interior solutions with a focus on modern Italian design. They are a full-service showroom: from concept to implementation. With over a decade of experience supporting the development of their beautiful city through residential and commercial applications, they have developed a large network of Italian suppliers that offer high quality, Italian made products.
Website: https://studioverticale.com/welcome/
Ana Donohue Interiors
Photo: Ana Donohue Interiors
About: Ana Donohue is an award-winning designer who is dedicated to infusing a client's personality and vision into a unique, beautiful and unexpected space. Ana Donohue Interiors has a reputation for mixing styles in a room and truly making a house feel like a home, balancing an approach that respects her client's opinions and tastes while blending in design that introduces a degree of the unexpected and delivering new possibilities to call home.
Website: https://www.anadonohueinteriors.com/
Platemark Design
Photo: Platemark Design
About: Platemark Design's style evokes a painterly quality — bold and adventurous yet always steeped with texture. Their projects include private homes, vacation homes, rural estates, urban townhomes, and condominiums. They understand that by advocating for their clients throughout the entire design-build process, they can ensure seamless turn-key design solutions. They are also proud to be selected Best of Boston 2018 by Boston Magazine and Boston Home for Contemporary Interior Design.
Website: https://www.facebook.com/platemark/
Joshua Alan Interiors
About: Joshua Alan Interiors offers expertise in home renovations, kitchen and bathroom design, historical brownstone and row house restoration, custom millwork, paint and wall covering consults, fine artwork and sculpture procurement, custom furnishings, custom upholstery, and window treatments. Joshua Alan Interiors impacts lives through design, creating a space that reflects their client's lifestyle.
Website: http://joshua-alan.com/about
East Coast Design
About: Diana James entered into the world of design creating custom window treatments over 15 years ago. With a passion for design and architecture, she began to expand her business partnering with talented architects and contractors to expand her services as a full-service interior design firm, known as East Coast Design Inc. Diana's personal style is clean modern, ocean-inspired design.
Website: http://www.eastcoastdesigninc.com/
Daher Interior Design
About: Daher Interior Design is an award-winning design team creating artfully crafted, and functionally beautiful spaces.  They combine unparalleled client service with an approachability that allows us to deliver uniquely personalized spaces for our most deserving clients.
Website: https://daherinteriordesign.com/
Lisa Tharp Design
About: Lisa Tharp Interior Architecture + Design + Build is a full-service team of design, project management, and finance talent support the vision and bring each plan to life with excellence. Collaborations with trusted builders, architects, artisans, and makers enable a cohesive vision throughout each project, from new construction and renovations to the detail of the last furnishings. Services include design practices that are healthy for people + the planet, which Tharp showcased in her award-winning Concord Green Healthy Home.
Website: https://www.lisatharp.com/
Kelly Mcguill Home
About: Kelly McGuill Home is an upscale interior design firm whose multi-faceted design approach offers a complete range of services including interior design, project management, and material sourcing. The distinct advantage of their team is the ability to bridge the construction and design process through their understanding of both conceptual and practical complexities in all stages of development. They are able to explore all the creative possibilities with their clients and communicate real costs to avoid mishaps. Their projects have been featured in major editorial magazines as well as domestic and international blogs.
Website: https://www.kellymcguillhome.com/
Rachel Reider Interiors
About: Rachel Reider Interiors was born out of a love of the creative design process, and since opening their doors in 2006, bold palettes and patterns have become the firm's signature touch.   With projects ranging from residential to commercial and beachfront to the mountainside, Rachel started her business based on the simple idea that the best interiors reflect their inhabitants.  But sometimes people need a little guidance along the way, and that's where Rachel Reider Interiors shines.
Website:https://www.rachelreider.com/
Vani Sayeed Studios
About: Vani Sayeed Studios is a multi-discipline interior design firm, providing turnkey solutions for interior design and artistic consultative services for a full range of projects. Their services include space planning, renovations, color consultations, lighting, fabric, furniture and furnishings selections.
Website: https://vanisayeedstudios.com/
Casabella Interiors
About: Casabella Interiors believe in creating high-style interiors that feel familiar and inviting – spaces with a personal point of view. Whether clients shop their showroom floor for a dining table, explore their online boutique for their favorite global finds, or engage their design studio for a ground-up residential project—or just a single room—they believe in transforming houses into havens one well-edited piece at a time.
Website: https://www.casabellainteriors.com/
Twelve Chairs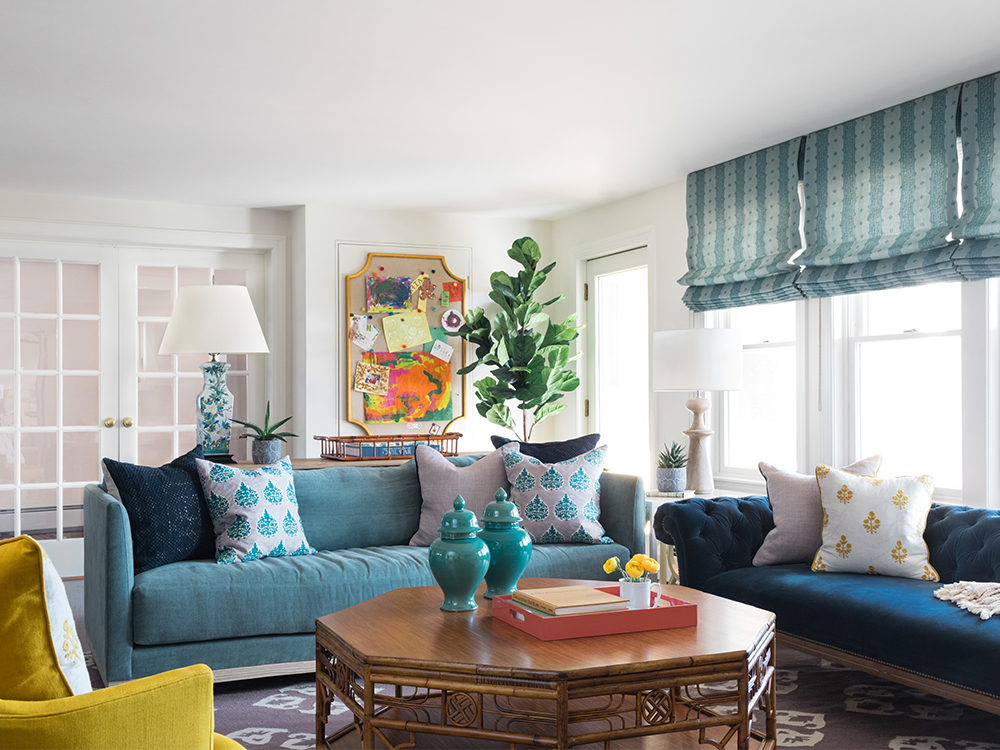 About: Twelve Chairs thoughtfully designs stylish, inviting interiors for their clients in Boston and the surrounding suburbs. With a specialty in houses from the 1800s through the 1940s, the scale of their projects ranges from a few rooms to the complete design of entire homes.
Website: http://twelvechairsboston.com/
Sloane Design Group
About: Sloane is a full-service luxury design firm headquartered in Boston and serving the entire East Coast shorefront, from Kennebunkport to Palm Beach, and numerous stops in between.  Inspired by the Atlantic, Debra specializes in creating timeless-yet-modern interiors in high-end residential markets.
Website:https://debrasloane.com/
Betsy Bassett Interiors
About: Betsy Bassett Interiors is an award-winning Boston-based interior design firm offering complete design services for high-end residential and commercial spaces. Betsy Bassett relishes the unique engagement with each of her clients to develop and deliver a home that reflects their personality, aesthetic, and lifestyle. To create spaces that are both beautiful and functional, Betsy and her team work closely with architects, builders, and artisans in the collaborative process that is necessary to make these visions a reality.
Website:https://www.betsybassettinteriors.com/
Pinney Designs
About: Pinney Designs is a full-service interior design firm, which specializes in new construction and home renovations. They work closely with their clients to help establish initial design concepts, then produce design documents and specify all of the components of the design. Pinney Designs often collaborates with architects, builders and lighting designers for projects. A wide range of highly skilled tradespeople is recommended to help execute each design project flawlessly.
Website:https://www.pinneydesigns.com/
Heidi Pribell Interiors
About: Heidi Pribell Interior Design puts a fresh twist on a classic design. By blending elegance with bohemian flair, Heidi creates inviting interiors with an elegant and sophisticated appeal. Confident in mixing eras, style, and color, she brings her expertise and love of antiques, art, and objects to every project. Heidi's design work has received numerous "Best of Boston" awards and has been featured in publications including New England Home, Design New England and Boston Magazine.
Website:https://heidipribell.com/
Kristine Mullaney Design
About: Boston-based interior designer Kristine Mullaney of Kristine Mullaney Design, is drawn to pieces that are ultra-sophisticated but with an approachable (read: livable) edge. Known for their understated elegance, the rooms she curates are luxurious, sharp and layered with pieces from a variety of time periods. Her philosophy is that the design process should be fun for the client, so she tries to make it as collaborative as possible.
Website:http://kristinemullaney.com/
Tanya Capaldo Designs
About: Tanya Capaldo Designs is a full-service design firm located in Boston, MA. Known for her candor, humor and approachable design advice, Tanya brings elegant, livable designs to her interiors. She has been able to apply her signature style to many different settings, from clean-lined city chic to cottage in the country. Tanya takes a modern, refined approach to her designs by incorporating unexpected juxtapositions in the layering of textures, art, beautiful fabrics and interesting objects.
Website:https://www.tanyacapaldodesigns.com/
Hakansson Design Group
About: Hakansson Design Group is an award-winning, full-service interior design firm based in Boston, Massachusetts, service clientele in greater Boston, Cape Cod and the Islands and beyond.From a complete renovation or selecting the décor for just one from we envision the comprehensive interior design plan and manage the project from start to finish with unsurpassed service, quality and value.
Website:https://khdesigngroup.com/
Heather Vaughan Design
About: Hakansson Design Group, collaborates with clients to create spaces they long to return to; homes that comfort, restore, and reflect the individuality and soul of the owner. Never settling for ordinary, they strive to design extraordinary spaces that are inspired by the people who inhabit them. Aware that each client is unique, they approach every project with a bespoke point of view and design homes that are personal and in sync with their client's lifestyle and needs.
Website:https://heathervaughandesign.com/
SLC Interiors
About: Susanne Lichten Csongor, founder of SLC Interiors, Inc. has over twenty years of extensive experience in high-end residential design. The firm's residential practice includes a private family compound in Nantucket featuring a spa, tennis and an equestrian facility, residences at The Setai Hotel overlooking Miami Beach and a Pied a Terre overlooking Boston's Public Garden.
Website:https://slcinteriors.com/
Janine Dowling Design
About: Janine Dowling Design services have a broad range. Sometimes their clients need just a consultation for new ideas or paint colors or they may have a few rooms needing to be refurnished; other times they have a full scale remodel. They tailor their expertise to meet the requests of their clients. Over the years they have enjoyed keeping their project size varied and their visions flexible.
Website:https://www.janinedowling.com/
Interiology Design Co.
About: Interiology Design Co. help their clients transform their homes into luxurious, exquisitely executed, inspiring spaces that express their distinctive style and envelop the way they live. Through their unparalleled client experience, innovative design solutions and impeccable service, their clients trust them and they mutually value their relationship. The results are custom-tailored interiors their clients are excited to come home to and share with those they love.
Website:https://interiology.com/
Mandarina Studio
About: Amanda Reid founded Boston-based Mandarina Studio to create an interior design business built on creativity and collaboration.  Amanda brings 15 years of experience, taking the lead on all projects and working closely with clients to craft design solutions for inspiring spaces. Only a select number of projects are taken on at a time to ensure Amanda can build a personal relationship and give each project its essential commitment and attention.
Website:http://www.mandarinastudio.net/
Color Theory Boston
About: Established in 2009 c is a full-service, Boston-based company. They offer Interior Design, Color Consultations, and as well as Interior Painting and Wallpaper Hanging services. Their Interior Design service will add a unique style sensibility and level of sophistication to your modern lifestyle, incorporating a mix of high and low, old and new, bringing a fresh perspective to client's domain. They work closely with clients to ensure that no detail is overlooked. It is their goal to see the vision come to life.
Website:http://www.colortheoryboston.com/
C. B. Hughes Design
About: Founded in 2012, C. B. Hughes Design is a Boston based interior design firm, serving both residential and boutique commercial clients. Caroline Hughes, the principal designer, is admired for her fresh interpretation of New England's beloved traditional style.
Website:https://www.cbhughesdesign.com/
Catherine & McClure Interiors
About: Catherine & McClure Interiors strive, in each space, to find the fullest expression of their clients' preferences and personality. They believe that style starts with their client's unique and individual tastes. Catherine McClure, the principal designer, is admired for her classic New England design sensibility with influences from Paris, Africa and beyond, resulting in traditional spaces with an eclectic flavor.
Website:http://www.catherineandmcclure.com/
JN Interior Spaces
About: Jill Najnigier has been creating sophisticated, smart and special spaces for a diverse client base, both residential and commercial, since 2004. Each project exemplifies her passion for design, tailored approach and attention to detail. Her projects range in breadth and include a historic brownstone on Beacon Hill; a mid-century modern home in vibrant Manhattan Beach; oceanfront homes on Cape Cod and East Hampton; high-rise condominiums in Boston's iconic neighborhoods; and inspirational commercial spaces.
Website:https://www.jninteriorspaces.com/
North Fork Design Co.
About: North Fork Design Co. is a full service Interior Design Company servicing the Boston, MA area as well as the East End of Long Island, NY. The design team is comprised of two young professionals — having a fresh and energized attitude towards design. They have an array of experience and abilities. Being able to creatively problem-solve for any design dilemma and work together with their clients are qualities they are grateful to possess.
Website:https://www.northforkdesignco.com/
Shor Home
About: Interior & Architectural Design Studio bring individual style and comfort to their projects. Whether traditional or modern, they create high quality, comfortable spaces all over New England, New York, Charleston, and Florida. Additionally, they operate an award-winning design showroom featuring luxe home furnishings in the heart of Provincetown.
Website:
Jamie Keskin Design
About: Jamie Keskin Design is a full-service interior design firm. From new construction to individual room design, they offer comprehensive design services for residential spaces of all shapes and sizes. The design process includes an initial (free) consultation, space planning, budgeting, project management, selection of furniture (both new and vintage) lighting, accessories, artwork, window treatments, and paint and wallpaper selection.
Website:http://jamiekeskindesign.com/
Edwina Drummond Interiors
About: Edwina is an award-winning, full service, residential designer who has been working in the New England area for over 30 years. Edwina has offices in New Hampshire as well as Boston, Massachusetts. Edwina enjoys working in a collaborative relationship with her clients and takes great pride in her ability to listen and translate their dreams and values into a timeless, unique and comfortable living environment. Edwina understands that the principles of good design can exist in all budget levels.
Website:https://www.edwinadrummondinteriors.com/
Marylou Fraser Interiors
About: Marylou Fraser Interiors is a full-service design studio, offering high-end custom interior design. Creating wonderful, livable, timeless spaces. She believes that the design process is not just about the finished product but the total experience should be enjoyable.
Website:https://www.fraserinteriors.com/about
AbbeyK
About: AbbeyK a Boston-based interior decorating firm lead by Abbey Koplovitz, who has 18 years in the biz. They are known for their use of color, their down-to-earth nature, enthusiasm, and old-fashioned honesty. They do every style you could imagine — from classic New England all the way to modern.  They delight in working on historic homes and making them comfortable for today's living.
Website:https://abbeyk.com/
Desiree Burns Interiors
About: Desiree Burns interiors is a full-service boutique interior design firm with a focus on creating spaces that reflect their owners' style and personality. Whether she's transforming a Boston loft or a beachfront vacation home, Desiree pays close attention to the little details. Translating the client's style, needs, and vision to create beautiful, functional spaces, is her goal for each and every project.
Website:https://www.dburnsinteriors.com/
Patricia Stone Interiors
About: Patricia Stone Interiors is a full-service interior design consulting with a focus on residential projects of all sizes. Patricia prefers to focus on an environmentally friendly approach to her design choices working with fabrics and furnishings that tend towards the most organic and sustainable selections possible. She offers a wide range of interior design services, including space planning, renovations, fabric, furniture, furnishings and art selections to suit the specific needs of each individual client.
Website:https://www.patriciastoneinteriors.com
JS Interiors
About: Justene Spaulding brings an innovative approach to her designs. Her artful blending of new and old elements along with her creative use of fabric, color, and texture, produce classic homes with a modern twist. JS Interiors creates stunning living environments to fit their client's individual needs.
Website:http://www.jsinteriorsboston.com/
Nancy Serafini Interior Design
About: Nancy has over 40 years of experience of classic interior design specializing in renovation, new construction and decorating. She is an allied member of ASID and inductee into New England Design Hall of Fame 2012. Nancy has also been published in over 30 trade magazines.
Website:http://nancyserafini.com/
Kelly Rogers Interiors
About: An expert in family-centered design, Kelly Rogers works with her clients to create kid and pet (and adult) friendly homes with decidedly "grown-up" style. She specializes in designing mid-range to high-end spaces that are polished, yet comfortable, colorful, yet serene, and beautiful, yet durable.
Website:http://kellyrogersinteriors.com/
Sea Squared Design
About: Sea Squared Design understands that creating 'fancy' or 'wow' spaces is fun, but their main focus is on creating spaces that make people say "This place is so inviting … I don't ever want to leave!"​ They believe that is successful design. They've designed for both residential and commercial clients, decorated showrooms, and staged photography shoots for magazines and real estate companies.
Website:https://www.seasquareddesign.com
ZAZ Studio
About: Flora Kogan at ZAZ Studio has been working in the industry for almost a decade, designing for a variety of well-known architecture & interiors firms. She believes in the psychology of limitations, meaning that constraints and variables can push us to find more creative approaches.
Website:http://zaz-studio.com/
Lenore Design
About: Lenore Design is a full-service residential Interior Architecture + Design firm located in Newton, MA.  They are founded on the philosophy that successful design is created through experience, open communication and close attention to detail.
Website:http://www.lenoredesign.com/
Justine Sterling Design
About: Headquartered in Boston with projects throughout the world, Justine Sterling Design guides discerning clients through the process of discovering home through form, function, and feeling. In 2015, she was named as one of HGTV's "Fresh Faces of Design" finalists. In the past five years, she's been featured in Design New England magazine, The Boston Globe, Boston Home magazine and the Interior Design Best of Residential Book.
Website:https://www.justinesterling.com
Pratt & Deutsch Interiors
About: Pratt & Deutsch Interiors is a full-service residential design firm, which focuses on high-end residential projects and boutique style commercial spaces. Their mission is to approach each project with a holistic vision, and they commit to designing spaces that are a true reflection of the clients living in them. Their eclectic approach to design is ever-evolving and always inspired.
Website:https://prattdeutschinteriors.com/
Ann Maguire Design
About: Based in the Boston area, Ann Maguire Design provides interior design and space planning services to the residential market. Her primary objective is to effectively respond to the unique aesthetic and functional demands of each and every client.
Website:http://www.annmaguiredesign.com/
A.LeStage Interiors
About: For the past 10 years, Nathalie has worked for an established interior design firm in Wellesley as a senior designer. She managed both large and small spaces ranging from a 22,000 square foot home to a single room. Nathalie has recently opened her own design firm, A.LeStage Interiors, in Carlisle, MA in the town center. She has lived in Carlisle for seven years with her husband Christopher and her two children Izzy and Ollie.
Website:http://alestageinteriors.com/
Stefura Associates
About: Stefura Associates, work with a diverse clientele in a variety of project types in both the public and private sectors. This breadth of experience fuels their creativity and allows them to bring a fresh perspective to each project. A collaborative, client-centered design process is the hallmark of their practice. They explore each client's vision, using it as a framework to develop innovative solutions for the unique challenges presented.
Website:http://www.stefura.com/
Make sure to sign up to newsletters and stay updated with all these blogs for only the best in design and decor news and tips