Rose Gold – The Trend We Don't Want To Go Away
Rose gold, otherwise known as rose quartz or pink gold, is the hue that has promised never to leave us ever since it was declared Pantone's Color of the Year in 2016.
While we definitely see many trends come and go, rose gold is unquestionably still a hot favorite.
Now, we know that this luxurious shade of metallic pink is not new!
If you're a jewelry enthusiast, you'd know that this combination of yellow gold and copper has been around ever since the nineteenth century. Back then, it was popularly known as "Russian gold."
From gadgets to jewelry and accessories to home decor, rose gold is everywhere! For a color that reflects warmth, compassion, and luxury all at the same time, it became nearly impossible not to own a piece in this flamboyant shade of pink.
On that note, let's look at some of these incredible home accessories that will make you fall in love with rose gold again and again and again…
Olivia, you babe!
Brightech's Olivia LED Arc floor lamp in stunning rose gold is a style statement on its own. It's contemporary 9″ diameter dome lamp shade design adds a modern mid-century touch to any kind of decor.
As if that's not enough.
Its 360 degrees, omnidirectional light fixture ensures that light is equally distributed, warming up your whole room with a glowing light.
The design is slender yet bold and the rose gold tint adds glamour and sheen to its personality.
Looking for a new floor lamp?
One that will suffice more than just regular lighting?
The Olivia is your answer 😍
A cozy dining nook
Creating a cozy corner is by far the best approach to dealing with small spaces.
Don't you agree?
Often, we dismiss the idea of having a comfortable dining space just to make more room for "other stuff".
But what if you can do both?
Take a look at this pretty dining arrangement in a combination of rose pink, gold, and marble. The composition is clean, simple and stunning.
Obsessed, much?
Some sexy storage (baskets in rose gold)
Wire baskets are a popular home accessory to store away your things in style.
Beating the monotony of the classic metallic colors, this one in rose gold adds some glam to your space. With declutter and organizing hacks becoming a top priority, you'll just love stacking your throws, pillows or magazines in these flashy blush pink chevron baskets.
What do you think?
Ooh, I like your accent!
I think we can agree that too much of anything is never a good thing, and too much rose gold is a possibility, too!
But a few accents wouldn't hurt 😉
While most of us may blanch at the thought of making a room look sophisticated while focusing on this color, there's no need to go overboard!
Accent furniture like a coffee table, a magazine holder or even a large vase can add just the right amount of glam to your space.
Rose gold pieces look amazing when combined with traditional materials like ceramics, glass and even marble. Try it yourself!
Make your kitchen sparkle
So it seems like rose gold has proven that peer pressure does not work.
She's stuck around for years, and the trend goes on!
We know that silver is traditional and matte black is the next vogue, but rose gold can be your absolute highlight. Trust us.
Take a look at this stunning kitchen! No need to redo your whole space in millennial pink, darling, but the possibilities are endless!
From your Kitchen Aid stand mixers to everyday items like canisters and cutlery, rose gold seems to have covered it all.
Shimmer, shimmer, on the wall
There's nothing like some gorgeous rose gold wallpaper to spruce up your space or create a focal point.
With plenty of options in patterns in geometrics, florals and interesting textures, wallpapers in rose gold are a huge hit!
Would you take the leap?
Organization can be beautiful, too
Are you an organizer buff? Do you love everything to be in place and in style, all at the same time?
If you are even closely following the declutter mantra, then there's no doubt you dream of having a few shiny organizers in your space.
From wire baskets to pen stands, stationary to smart storage, rose gold is literally everywhere and will brighten up your space, making it look sexy and sophisticated too.
DREAM 😍
Upholstered fabrics & drapes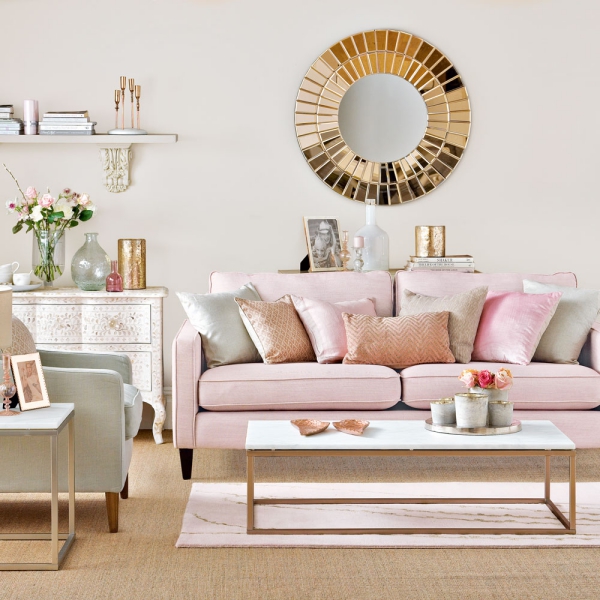 Luxury wrapped in warmth is one of the main reasons why rose gold is so appealing.
While decor in pink is usually associated with teenage girls, rose gold has managed to offer a much wider perspective. It's comforting, elegant, rich and has a subtle sheen that makes it perfect for upholsteries and drapes.
Whether you use it in solids, prints or in your throw pillows and blankets, rose gold will never disappoint you.
There's a pot of gold in your living room!
When we said that rose gold is everywhere, we meant it!
As more and more people focus on growing their own produce or try their green luck with indoor plants, rose gold manages to bag the prize in pots and planters too.
With tons of DIY hacks and easily store-bought choices, this is yet another reason why this color ain't going anywhere for a long time to come.
Obsessed is an understatement 😍
Your bathroom can be glam, too
Bath accessories and fixtures in rose gold have been revolutionary.
Breaking the norm of traditional colors, rose gold has seeped into our households in the most unexpected ways.
As much as they look stunning as shower and sink fittings, there are plenty of other bath accessories to consider when you are looking for budget makeovers.
There's simply no better way to add some sparkle and sophistication to your space, and it doesn't have to be expensive!
Do you have any rose gold in your home? Tell us where, tell us how, share your pics!