This Sister-in-Law Duo Make their Own Furniture [Interview]
For this interview, we got to chat with Cate from Style Mutt Home. She is part of an incredible duo – Cate and Chelsea are sisters in law and run an incredible interior design business. What's really cool about them is that they make their own furniture! They refinish old vintage furniture and make it look completely brand new. In this post, they actually mention one of the times that they made their own lighting – from scratch. It's incredible, check it out below:
1. How many years have you been blogging?
I have been blogging with my Sister-in-Law and co-founder of SMH for 7+ years now.  I started as a guest contributor on her blog and then we ended up starting StyleMutt Home together in 2013.
2. What is your favorite Interior Design project that you've ever done?
This dining room in Frederick, MD.  As our designer, Chelsea (my sis-in-law and business partner) get all the credit for planning and sourcing the amazing goodies that went into making this room – but I got to jump in and style the shelves when we went over to shoot the space.  It's such a joy when we get to tag-team a project!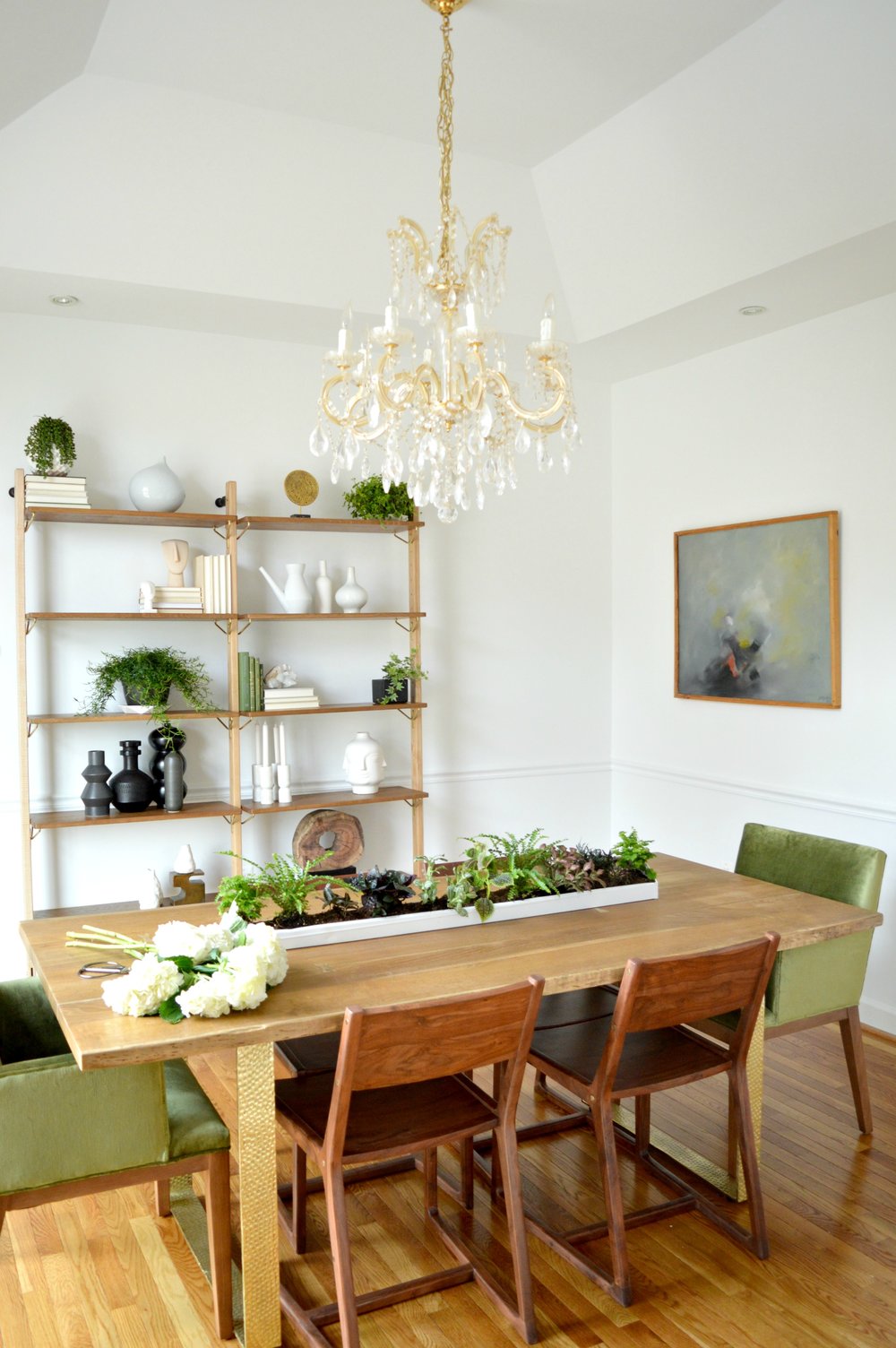 3. Which project are you most proud of? 
Probably my frankensteined chandelier.  This was a particularly risky project because it involved building a light fixture (electrical work and all) from salvaged pieces AND installing it in my own home as the final test.  I wouldn't recommend it for just anybody but I didn't set anything on fire!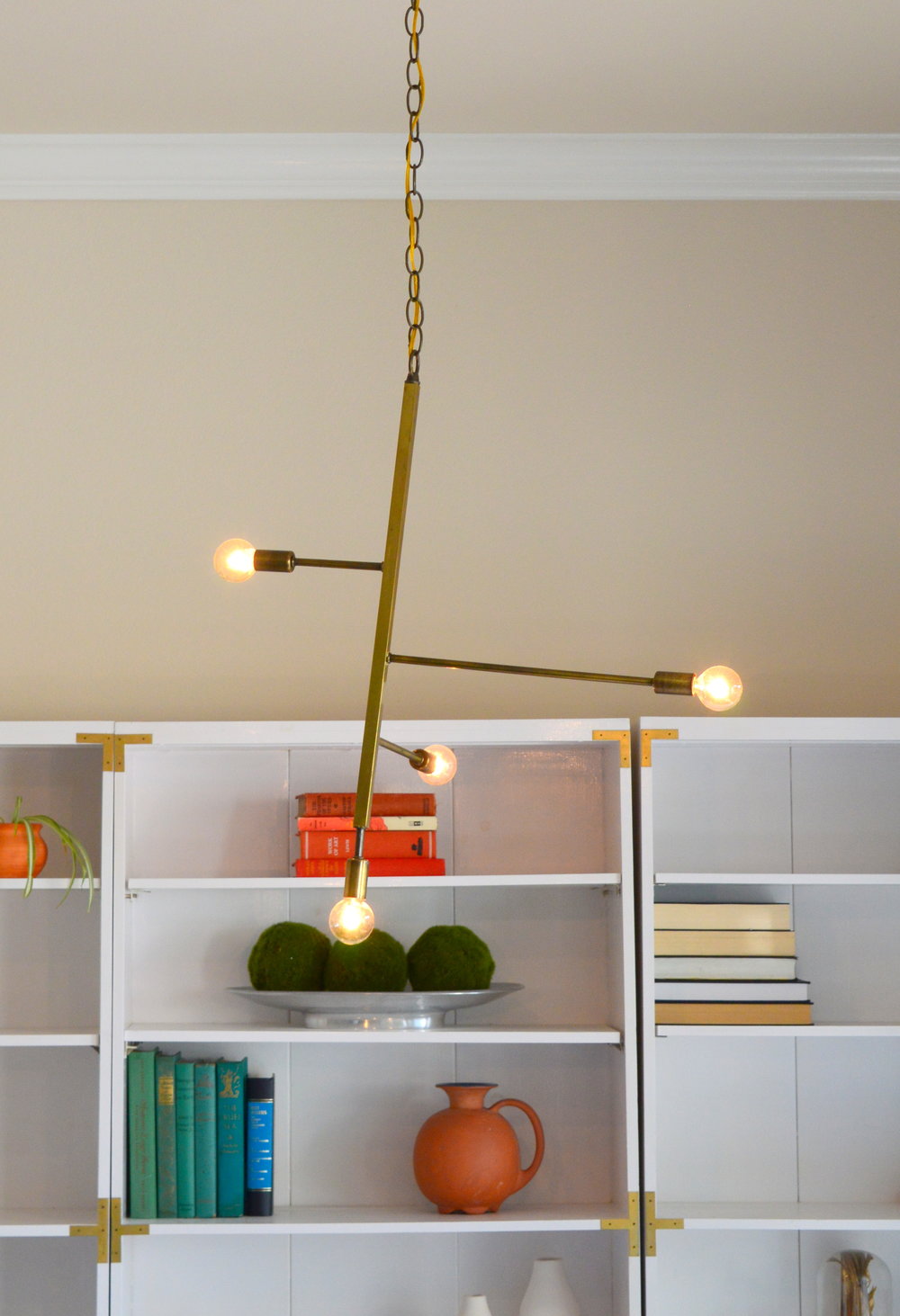 4. What does a day in the life of an interior decor blogger look like?
Well, what we like most about owning our own small business is that it can conform to our family's needs.  I usually find time to work on my projects in the margins of my day. Sometimes it's a block of time on a Sunday while husband and our daughter are watching the football game.  Sometimes it's a weekday if the baby is at daycare. Sometimes I'm editing a post in the wee small hours of the morning while nursing. And I even was editing a post during the labor and delivery of my daughter.
5. What kind of lighting do you have set up for your work?
I actually don't use any fancy lighting – just natural light and a good camera.
6. What is your favorite lamp or string lights that you've used for a project?
I am in LOVE with the France & Son light fixture we installing in our current dining room.  I had wanted this light for a long time (so much so that I put it on the 2019 Furniture Flip Bucket List I publish every year) so we saved up and finally purchased it!
7. What is the greatest tip that you could give to our readers? 
Keep challenging yourself.  A lot of the creative process is about trying something new, finding out it's not gonna work the way you pictured, trying something else, and finding your way to a finished product you can be proud of because you didn't give up or you at least learned something.
8. What is the hardest thing about interior design? 
Perhaps evolving with your business and being willing to pivot.  We started with furniture flipping and chronicling the changes in our own homes.  Then the styling of our finished pieces started to attract folks who needed help pulling their spaces together.  That grew into the chance for Chelsea to focus on offering affordable eDesign (design done remotely from floorplans to shopping lists, to 3D renderings).  I still concentrate on flipping furniture because that's more convenient for me and my family's schedule – but sometimes we get to collaborate with a client who wants custom furniture in their design.
9. If you had to do it all over again, what would you do differently?
Not much honestly.  I am currently working on sharing more of my personal life in my posts personally – posting about furniture flips with the objective of selling your finished product can become rather formulaic.  I've found that adding colorful stories from my experiences keeps things interesting and helps expand my writing skills.
10. What do you think had the biggest impact on making your blog a success?
Marching to the beat of my own drum.  It's easy to get caught up in what's trending or popular but if you do you, then the right people will be drawn to that.  But don't forget to challenge yourself so you don't become stagnant.
We hope that you enjoyed this awesome interview. If you want to read about other really cool interior designers check out our interview with Michele that bought and renovated her own farmhouse and Christina's dream of becoming an interior designer.