Top 20 Interior Designers in Phoenix
Phoenix is an incredible town. It's most well known to be an industrial and agricultural hub but it has so much more to offer. It has the largest municipal park in North America that's 16,500 acres and offers more than 50 miles of hiking and biking trails. It has also become a really big hub for interior design with its eclectic blend of Latin American and desert influences.
In this post, we bring you the top interior designers in Phoenix.
Let's dive in:
D'amore Interior Design Studio
About: Claudia Dabdoub has 24 years of experience in interior design. After graduating from the University of Arizona, she has worked for a design firm. In 2007, she started her own company D'amore Interior Design Studio. Her wish is to help her customers make the most of their budget, space and time, but foremost making sure the customer is satisfied. Most of her clientele are gained through referrals.
Website: www.damoreidsinc.com
John Harding Dey Interiors
About: John Harding Graduated from Arizona State University,  He has a BFA in Environmental Science With extensive studies in business, social and behavioral sciences.  My interest is in providing you with the finest design services for you and your family, and I have many years of satisfied clients and the experience and breadth of knowledge to satisfy your design requirements.
Website: jhdasid.com
Allure Design
About: Allure Designs is an award-winning residential and commercial interior design firm. Our project runs from large-scale custom remodels to facelift for dated rooms that need a creative solution. We pride ourselves on the excellence and reliability of our work and believe that open communication with our clients is the best way for us to achieve and exceed their expectations. Allure designs was established in 2006 by its founder and owner award-winning designer Luz Marina Selles.LuzMarina Selles is an award-winning designer of residential interiors as well as a prominent kitchen and bath designer. She has a great knowledge of architecture and is highly skilled in CAD drafting. Not only that, but she has a wealth of experience when it comes to the construction process, positioning her as one of the best designers to project manage a remodel.
Website: allureinteriordesigns.com
Interior Preference, LLC
About:  Interior Preference is a complete service interior design and staging firm. Principal Designer, Paula Savino, Allied ASID, possesses a bachelor's degree in interior design. The design and staging firm is located in Chandler, Arizona. Our completed projects have been admired in Arizona, California and New Mexico. The firm's projects scope includes residential interiors and exteriors which encompass the renovation of existing environments, new builds, and staging spaces for resale.The blending of interior design elements and principals with architectural elements has always been of paramount value in the creation and execution of our designs.
We have always been inspired and intrigued by the rustic, untouched beauty of nature, its elements, colors, hues and the vast serenity it brings to the human soul. We love to design environments which include eco green elements and evoke a sense of beauty usually inspired through nature, complimented with a relentless gracious pursuit of comfort and which includes the no-nonsense quirky personalities of the clients, our designs need to speak of a laid-back, welcoming, unpretentious attitude which soothes all of the senses including your soul.
Website: www.interiorpreference.com
Generation Interiors
About: I am an Arizona native. I am a mother of 4 children and have 5 grand children. I have had a passion and eye for design for as long as I can remember. I love to help my clients achieve the home of their dreams!
Website: generationinteriors.com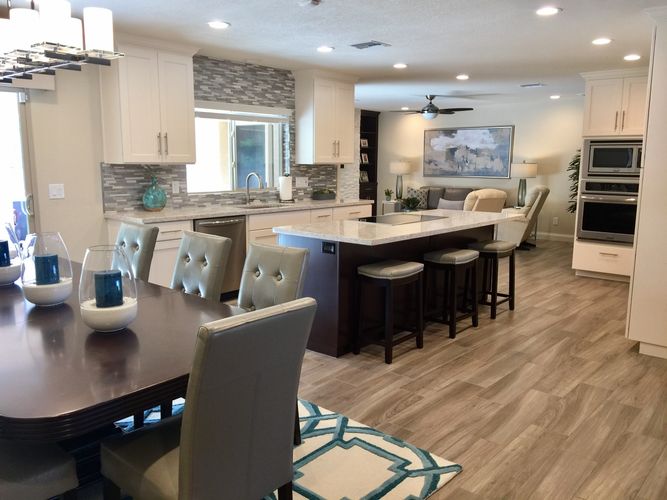 Jaimee Rose Interiors
About: Jaimee Rose is a full-service interior designer focused on building and furnishing luxury residences throughout Arizona and across the country. She is available for new construction and remodels, as well as refreshes of existing rooms and select commercial projects.Jaimee studied design and English at Brigham Young University and at Arizona State University. She began her career as a designer at a young age while helping her mother, also an accomplished decorator. A longtime journalist, Jaimee squeezed design work for select clients into evenings and weekends for many years before shifting to design full-time and widening the scope of her work to encompass the entire building process.
Website: jaimeerose.com
Elle Interiors
About: Ellinor Ellefson, award-winning designer and owner of Elle Interiors, was born and raised in Stockholm, Sweden, and spent many years living in France (Paris, Provence). She has a rich background, having lived and travelled all over the world. She studied History of Art, Architecture and Design at the University of Stockholm and became a sought after guide and writer, specializing in the art and design field. This became a strong foundation for her expert design knowledge and aesthetics.
since 1998 she has called Arizona home. She lives with her husband, two teenaged children, a dog and a cat in Gilbert, and became a U.S. Citizen in 2008. After pursuing a degree in Interior Design from CIDA accredited Scottsdale Community College, she launched Elle Interiors in 2007. She is a member of ASID (American Society of Interior Designers) as well as NKBA (National Kitchen and Bath Association), and has won multiple awards for her designs. She is also a frequent guest speaker at interior design colleges and various events.
Website: elleinteriorsaz.com
City Chic Design
About: Founded by award-winning designer Cristi Pettibone in 2006, City Chic Interior Design is a full-service studio offering personal, professional service from design concept through completion. With each project, Cristi and her team strive to deliver inspirational interiors that reflect the lifestyles, passions and personal tastes of her clients. A home's interior should both stimulate your senses and put you at ease.  It should be a space that makes the rituals of daily life pleasurable.  The design must keep function at the forefront while incorporating beauty, quality and the art of the unexpected.
Website: www.citychicdesign.com
Black Ink Interiors
About: Jenny Is an award-winning Interior Designer With over 14 years of experience. Prior to founding Black Ink Interiors in 2008, she was an in house designer for custom home builders in St. George, Utah and Las Vegas, NV. These valuable years helped develop her love for working with architects, builders, and clients and deepened her understanding of the vital role an interior designer plays in delivering amazing homes from the ground up. In addition to residential design, Jenny has experience designing interiors for restaurants, office spaces, and corporate retreats. As Principal Designer, Jenny oversees each project to ensure the design reflects the wishes of the client and incorporates the design quality of Black Ink Interiors.
Website: www.blackinkinteriors.com
Mackenzie Collier Interiors
About: Since 2011, our interior design team has serviced clients throughout Phoenix metro and beyond, completing projects in the Northwest, Midwest, and East Coast. MCI team members hail from around the country, and we apply our diverse experiences and perspectives to each client project.At Mackenzie Collier Interiors, we focus on working closely with clients to create personalized, stress-free design experiences, helping families and businesses express themselves through their unique spaces. We are committed to creating beautiful designs that not only look great but also support your lifestyle—taking our own tastes out of the equation and focusing on defining and developing your personal style.
Website: mackenziecollierinteriors.com
Chris Jovanelly Interior Design
About: Phoenix, Scottsdale interior designer – Chris Jovanelly. Sophisticated, intimate, refined interiors are what Chris Jovanelly Interior Design envisions and imparts on every environment he creates. With a multi-faceted portfolio, these signature elements coupled with his unique approach and outlook on the world of design is what sets him apart and garners him attention as an up-and-coming interior designer in Arizona. Chris's philosophy is that every space should exhibit a style that is memorable, indefinable, and with a personality that tells the story of who calls that space home. With Chris Jovanelly Interior Design, no detail is overlooked to achieve a great design. He recognizes that each person has an ideal image of how they want their space to look, and his commitment to creating each individual's vision is what makes him sought after in the Phoenix and Scottsdale area.
Website: www.chrisjovanelly.com
K&Q Interiors
About: With over thirty years combined experience, both designers have had an opportunity to work on a diverse range of projects, some of which have been featured in numerous publications consisting of Phoenix Home and Garden, Phoenix Magazine, Arizona Foothills, and Sources and Design. They have also been featured on the local morning news shows, FOX10 Cool House and Sonoran Living. Additionally, both designers have received recognition in their industry with receipt of numerous awards on a variety of projects. Such projects include Residential Design (new build & re-models), Office Design, Hospitality, Furniture Design and Model Homes
Website: www.kandqinteriors.com
Joi Prater Interiors
Ms. Prater has been a member of the American Society of Interior Designers since 1999.  She is a native Southern Californian, who grew up in the desert of Arizona, and has a Canadian family Heritage
IMI Design Studio
About: American interior designer Anita Lang founded IMI Design in 1992. Guided by the principle belief that great design elevates the human spirit, Anita and her team craft spaces that attract and inspire an elite clientele. Based in Scottsdale, Arizona, Anita has become a tastemaker for those seeking luxury lifestyle combined with beautiful design.
Anita's uncompromising approach to designing beautiful interiors blends refined architectural detailing and the finest materials with a brilliant eye for space planning and meticulous execution. With extensive experience in both residential and commercial developments, she brings vast knowledge to creating sophisticated, yet warm and livable, interior spaces. Through thoughtful curation, each project is approached with an expert mix of traditional and modern aesthetics using bespoke furnishings that embrace both art and design, while reflecting the style of her clients
Spaces Interior Design
About: Judith Mahlin Carter has been transforming the art of interior design in Arizona since she opened Artisans Resource, a Scottsdale-based art gallery specializing in one-of-a-kind, hand-crafted art objects, in 1991. Addressing clients' requests for a quicker alternative to conventional interior design services, Judith created Design in a Day in 2003.  In 2008, the business transformed into Spaces Interior Design, in an effort to better serve clientele by expanding the services she offered. With more than 30 years of experience in the interior design field, Judith has the expertise to make her client's design dreams a reality and ensure that the final result reflects not only a beautiful, comfortable space but their personal sense of style, as well. An accomplished artist herself, Judith views the creative process with an expert artist's eye – her sense of style and artistry evident in even the smallest of details.
Website: spacesinteriordesign.com