Top 20 Interior Designers in Portland
Portland is Oregon's capital and the home of the Portland Trail Blazers of the NBA. It's the largest city in the state and has a huge bicycle culture. It also is well known for its eco-friendliness, coffeehouses, and microbreweries. It has a stunning interior design scene. Check out some of the top interior designers in Portland below:
About: SUM is a group of individuals inspired to practice their skills in the context of something greater than themselves. Together, we design meaningful and sustainable buildings, environments and personal spaces. The studio was formed out of a desire to collaborate on holistic design projects in a culture of flexibility, creativity and professionalism. The team shares a common regard for the impact of their work on the people and places in which each project exists. SUM's business model is distinctive. Having evolved in firms rooted in hierarchy and formalities, the team recognized advantages to creating a dynamic structure. We work within a flexible and fluid infrastructure, which enables us to appoint the strongest team possible for each unique project. A thoughtful combination of architects, interior designers, and industry-leading consultants, are chosen to lend their skills and perspectives in ways that most benefit each client. This formula allows for a comprehensive approach to problem-solving while capitalizing on the skills and mindsets of specialists.
About: We have been designing magnificent interiors in the Northwest and beyond since 2007. We have the pleasure of collaborating with world-class builders and artisans whose partnership makes our projects truly shine. Our work has been featured in countless publications, and we have won local and national design awards along the way. We believe every project has its own style, challenges, and framework. We find what our clients most appreciate about us is our ability to create a space with function and beauty, one which is designed within a realistic timeline and budget. We bring the lost art of consistently exceeding our clients' expectations. We strive for a seamless project for our clients every day at Angela Todd Studios.
About: Established in 1986, our studio is a creative and innovative team of interior designers and planners whose core team members have been together for more than a decade. With a foundation in architectural interiors, our focus revolves around how interior spaces interact with the people living and working in them. Our firm is organized as a studio practice that fosters exploration – we have evolved a process of investigation that includes work sessions to explore desired outcomes. Through brainstorming, use of imagery and hands-on exploration, we help our Clients develop solutions that are unique in agreement with their individual philosophies, the identity of the community served, appropriate to the building architecture, maintainable and fiscally sound. Our team will utilize our knowledge, interest, research and experience in the design of each interior environment.
About: our mission is to create thoughtful, beautiful interiors that meet our clients' aesthetic, functional, and economic goals while honoring and celebrating the buildings that contain them. our approach is flexible and responsive. We work with some clients who have a strong vision and we help them achieve it. Others are less sure and we guide them through the design process, helping them to formulate their own aesthetic as we go. We are based in Portland but we are currently working on projects in New York, San Francisco, Los Angeles and other cities in the US. We enjoy the diversity and learning opportunities offered by working in communities other than our own.
About: Our design is authentic and approachable. Our process is rigorous and organized. We are focused on the details. After all, that's what makes up the bigger picture. Tell us your story. We will listen. We will ask questions and collaborate with you to land on a solution that will not only attain your goals but hopefully delight you. We seek clients and projects that center on making a positive difference in the world.  Whether that is making the perfect tarte Tatin in your kitchen, or giving your restaurant the best context for people to experience the full concept of your food. Working across residential, restaurant, hospitality and retail in the Portland, Oregon area and beyond. Each space is designed to be truly lived in, with the intention to make life easier and unquestionably more beautiful.
About: Garrison Hullinger has cultivated a group of gifted Designers with a wide background of disciplines and experience, known for the strength of its collaborative process, the team combines many talents while working in perfect unison Interior environment needs to be as warm and beautiful as they are comfortable and functional for people to live there. They accomplish this through color, form, construction a concept that carries them from start to finish.
About: I focus on creating high quality, inviting and livable spaces with long-lasting appeal. Drawing upon richness of experience in the design field, I enjoy collaborating with clients to bring excitement to their personal projects, as we seek innovative solutions. Tools to success include a thorough understanding of clients' project goals and maintaining open communication during all phases of the process. Even though my work has earned national and regional awards, I believe that the spaces I design should reflect each client's personal taste and design sensibilities. It's my desire to have an environmentally responsible approach and I strive to tastefully combine timeless quality with new technologies. Every effort is made to listen carefully, problem-solve creatively, and build a compatible team on your behalf. A keen eye and well-honed sense of style are supported with design basics such as proportion, balance, rhythm, color, and texture. Over the years, I have built a network of trusted affiliates that can be called upon to assist in specialized projects.
About: design studio ltd is a multi-disciplinary, full-service design company specializing in hotel, spa, restaurant, bar/club, and retail design. The company pursues projects which allow a unique and holistic approach involving architecture, interior, landscape, lighting, furniture, and graphic design. This approach, engaged from concept through completion, culminates in environments that are unified, context-specific and that exceed the client's expectations. Our process is hands-on and collaborative. Our aesthetic, modernist at its core, combines innovative concepts, intelligent planning and formal simplicity with a palette of sophisticated and luxurious materials and finishes. Our philosophy is simply good design. Based in Portland, with a studio in Los Angeles, some of our current projects include the hotel interiors at the W Hollywood Hotel & Residences, Drai's, the rooftop nightclub & pool at the W Hollywood; the Spa at Sé San Diego Hotel & Spa, the Grand Penthouse suite at Sé San Diego Hotel & Spa and a new boutique hotel in North Carolina.
About: Kismet Design was founded in 1997, by designer Erin Marshall. Erin earned a BFA in 1985 from the Pacific Northwest College of Art (PNCA). Initially, she worked as an advertising art director for a range of projects from pickles to non-profits, hi-tech to housing. As a design educator for 15 years, she taught color, composition, and concept, helping her students to "see" and value design. During that time, Erin learned to translate two-dimensional theory into three-dimensional practice as she rehabbed numerous homes in Portland's urban core. Kismet opened its doors in 1997. Her experience as a teacher has helped in her transition to working full-time as an interior designer on both commercial and residential projects for a wide variety of clients: builders, small businesses, and home-owners.
About: Her experience in styling for catalogs also provided years of exploring a variety of interior styles including rustic, traditional, transitional, modern, mid-century modern, contemporary, coastal, eclectic, and others. This has been invaluable to Kami as an interior home designer as she helps her clients create the home that suits them and not force her design interests onto the process. Instead, she brings her impeccable taste, sourcing expertise, and design sensibilities and combines that with her client's objectives, budget, and lifestyle. Kami is passionate about creating spaces that are stylish, functional, and unique no matter what the budget. She's an expert at sourcing and thrives on the challenge of creating just the right look for the price that fits her client's needs.
About:
Since 2004, Tobey Spitzer has been using her passion for design innovation and her experience in project organization to create and transform spaces.Whether you are planning a major home renovation or need to evolve your space to reflect a new chapter in your life, Tobey has the vision and skills to meet your needs.Tobey has an extensive network of contractors and craftsmen for projects at every scale, ranging from a small bathroom transformation to a total home renovation. They can provide the furniture, artwork and other finishing touches to make the space complete.Located in Portland, Oregon, Tobey Spitzer provides a full service interior design and project organization studio, creating and transforming spaces.
About: Victoria Ritts helps you create beautiful rooms that reflect your own personal taste and style.  After 25 years as an interior designer working with clients throughout the Puget Sound region, Victoria has created her new home on Whidbey Island. Victoria is available for consultation; complete design from concept to implementation;  or finding specific solutions to improve function and style in your home.
About: At 13 Design Lane Interiors, it is my personal mission to make your home or business attain its greatest potential.  I lend guidance and convenience on design selections and interior spaces.
​I will help with the choosing and placement of accessories, with the latest trends in color or style, selecting artwork and how best to arrange, help with decisions on area rugs, custom made furniture, bedding or window treatments.  No job is too small!
About: Kathryn James has over 24 years of experience in the field of Interiors, Art consulting and Project Management. Bluevine studios Creators of Connected Interior Designs. connected to our resources & each other.
About: For over twenty years, Christina Birtcher has been an active and highly respected member of the interior design community. Her work has been featured in a number of national and regional design publications, in addition to two hardcover books by Feng Shui master, Clear Englebert. An avid student of the art of design, Christina has lived, worked and studied in locals ranging from Paris to Hong Kong;  from the rugged and rustic Oregon Coast to the island of the South Pacific. Christina has been a certified member of the Interior Redecorator Network (IRN) since 1999, a nationally recognized and acclaimed interior design organization based in New York City, which has been an industry leader in the Use-What-You-Have philosophy.
​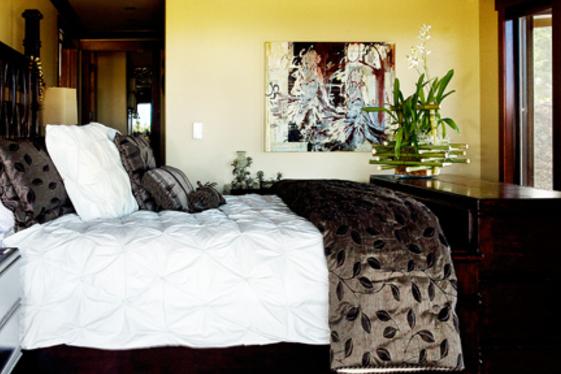 About: My mission is creating a room or rooms that give you pleasure, whether you are seeking the calmness of neutrals or the wow factor of vibrant colors. Though I reside in Portland, Oregon, USA, technology now allows me to use my design approach with its architectural perspectives anywhere in the world. As an interior designer, I am sensitive to an environment. I have an intuitive ability to use color in an artful way and to relate it to spatial relationships. A home is a marker of taste, a means of exercising and even forming the self. Your home is where the will toward beauty can be expressed.
About: Enomoto Designs is an interior design firm that specializes in creating spaces that visually reflect both your needs and values. Our brand is YOU. We are not a cookie cutter design firm instead we are visual storytellers. We promise that when the project is complete it will be Elegant, Timeless, and Harmonious.
About: Jennifer Leonard, a second-generation interior designer, founded the Portland, Oregon based firm Nifelle Design Fine Interiors in 2005. Featured in national and regional publications such as Luxe, Portrait Magazine, Gray, The Oregonian, Oregon Home, Sunset, and Angie's List (perennial winner of the Super Service Award), Jennifer's work is recognized for its classic and timeless elegance and livable practicality. Based from Nifelle Design's studio and showroom on Mt. Tabor, Jennifer's projects range from Hawaii to the Hamptons. Nifelle Design's mission is to create beautiful, functional, and authentic spaces that reflect each individual client. Jennifer is proud to lead a service-oriented firm known for listening to its clients' needs and achieving their goals in a collaborative manner. This approach has often led to long-term relationships with clients, who return to Nifelle Design for their next project.
About: A well-designed home provides comfort, inspiration and joy every day. It's the best place to share meals, conversation and life with family and friends. A comfortable and beautiful home reflects who you are and what you love, and Jenni Leasia Design can help you get there. Our work brings together creative design solutions with superb project management and attention to detail. We embrace technology to communicate design concepts precisely and to maximize our efficiency. Located in Portland Oregon, we work on projects throughout the Pacific Northwest, and nationally. We have more than 20 years of experience making a process that can be overwhelming and stressful into an exciting and enormously satisfying experience.
About: I was influenced at a young age by my artistic parents and extensive travels throughout Europe. These experiences inspired and enriched my appreciation and knowledge of architecture, art, furniture, fabrics, and color.  This, coupled with my creativity, professionalism, and people and organizational skills gleaned from over 15 years of sales experience, has transferred to my design business for the past 14 years. No matter the style or scope of the project I embrace it with the same attention to detail, design sensibility, enthusiasm, and expertise.  Creating beautiful,  livable and timeless interior spaces for my clients is my ultimate goal.