Top 20 Interior Designers in Scottsdale
Arizona's elements are filled with design inspiration- From the rich warm desert colors of the landscape to the blue skies and stunning sunsets. Whether you're looking for new ideas for your own Arizona based space, or your looking to draw from that mountain-desert inspiration, you've come to the right place! We've compiled a list of the Top 20 Interior Designs in Scottsdale, each with their own unique approach to creating lavish and gorgeous spaces. If your tired of looking at your whitewashed walls and dull kitchen counters, and feel it's time for an upgrade, then what are you waiting for? Let's go!
Black Ink Interiors 
About: Founded by the talented Jenny Slingerland, Blank Ink Interiors is a leader in the Scottsdale design community and the winner of several interior design awards. Their use of high-quality materials and connections with trade partnerships is the perfect recipe for high-quality designs and unique style! The firm's focus has mostly been on residential but they have also branched out to some really cool commercial projects like the DW Bistro.
Website: https://www.blackinkinteriors.com/
Alisha Taylor Interiors 
About: Alisha Taylor Interiors optimizes the essence of beauty and functionality. I love their use of cool, neutral tones and rich woods that gives their designs that warm inviting feel that works for every home! with over 18 years of experience, founder Alisha Taylor leads her team with the vision of combining technical aspects of architecture with the creativity of design.
Website: https://www.alishataylor.com/
Vicki Bergelt Interior Design LLC
About: Located in the heart of Scottsdale, Arizona, Vicki Bergelt Interior Design is a full-service design firm born out of passion and imagination. Their work has that timeless traditional feel, etched with class and luxury for a truly comprehensive design. The company's founder, Vicki Berglet has recently opened Casa-Chic a one-stop-shop for home accessories known for everything glamorous and shiny.
Website: https://scottsdaledesigner.com/
Est Est Interior Design 
About: With a multi-facet design perspective, together with a team of talented designers, Est Est Interior Design creates crafted and stylish spaces that have that unique wow factor. The firm prides itself on personal attention, integrity, quality, and skill which shines through in their work. In addition to their residential and commercial work, they have become known for their hospitality purchasing services, accredited to purchasing power from their long-lasting relationships and connections with manufactures.
Website: https://estestinc.com/
Janet Brooks Design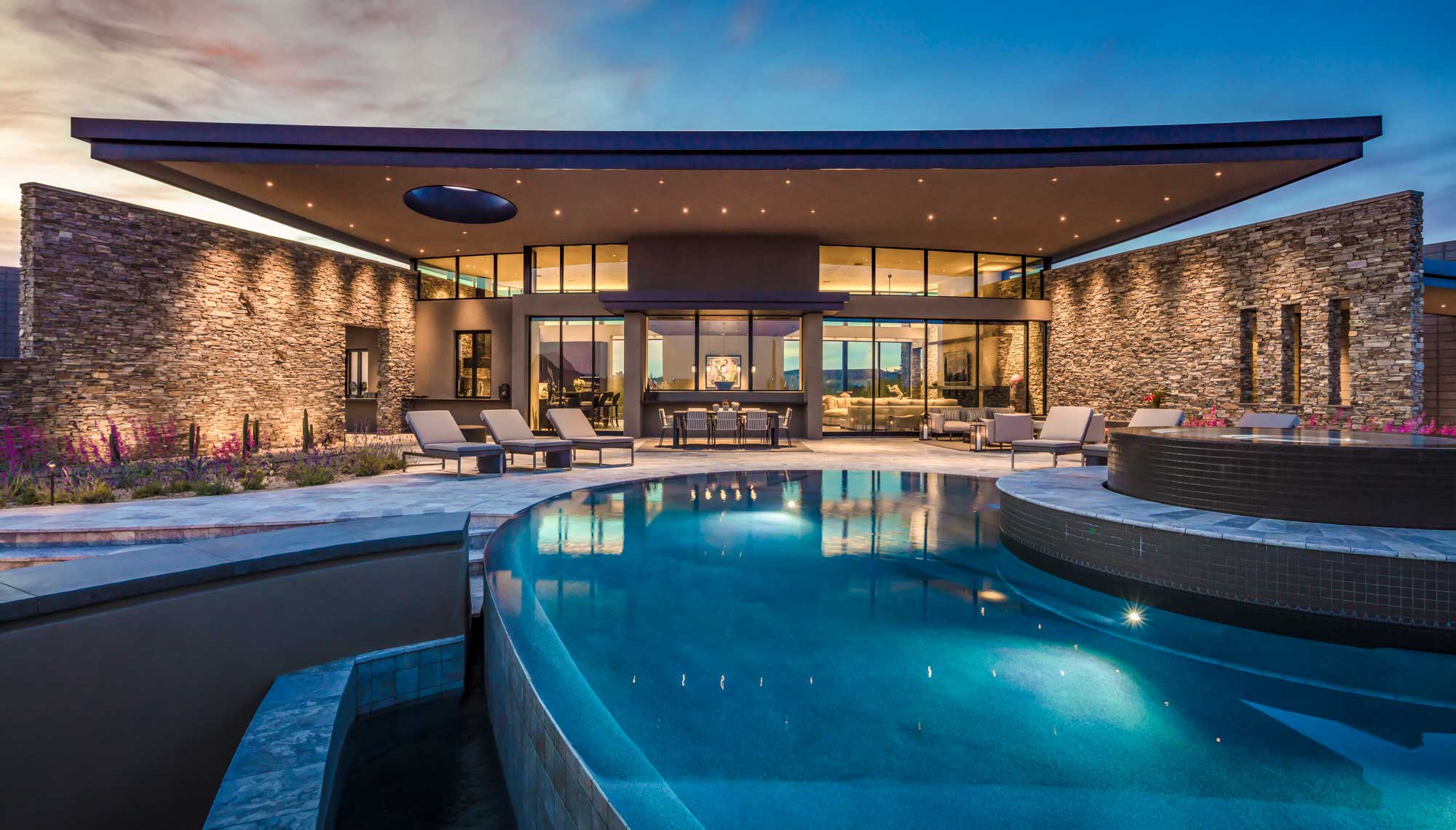 About: Inspired by her upbringing in Illinois and her time living in the mountains of Colorado, Janet Brooks is luxury home interior designer and the winner of many design awards. Never settling for less, she and her team have become one of the top interior design firms in Scottsdale, known for their personal service and professionalism. We absolutely love her unique landscape work, especially from their Contemporary Desert Southwest project, which won the first place in the 2018 ASID.
Website: https://janetbrooksdesign.com/
Ownby Designs
About: From kitchen transformations to full-scale renovations, Ownby Design offers wide-ranging design services. Their team has been the winner of several awards and aims to deliver beautiful and functional residential spaces. I appreciate their efforts in harmonizing interiors with exteriors which are portrayed in many of their works and make a home feel truly complete. For an example of this holistic approach, check out the Camelback Casual Modern project.
Website: http://www.ownbydesign.com/
Dettaglio Interior Design
About: Dettaglio Interior Design is an award-winning boutique design firm based in Scottsdale, Arizona. Their designs scream lush-indulgence and have a really unique edge. From modern to traditional, Jeni Robison leads her team with the vision of timeless sophistication. Be sure to check out the firms jaw-dropping renovated before-and-after projects, especially their Scottsdale Transitional Remodel.
Website: https://dettagliodesign.com/
Sanctuaries Interior Design
About: Awarded the best interior designer in Scottsdale and Phoenix, Amy Gutierrez founder of Sanctuaries Interior Design uses her experience in world travel and luxury hotels to create regal, over-the-top, wow-worthy spaces. Scrolling through her gallery is like taking a step into a regal medieval castle. With 15 years of experience with designing around the United States and the Caribbean, Amy brings a unique, international perspective to Scottsdale
Website: https://sanctuariesinteriordesign.com/
ModaScapes Interior Design
About: From personalized residential design to home staging, ModaScapes Interior Design firm aims to impress. With balance and harmony as their guiding principles, they create spaces that are traditional, classy and luxurious. Their full-service, Scottsdale based studio offers a wide range of services including kitchen and baths, remodeling, project management, and new construction. Check out the cool commercial work they've been doing, especially their office spaces.
Website: http://www.modascapes.com/
IMI Design Studio 
About: IMI Design Studio's guiding slogan of "elevating the human spirit through luxury design" shines through in their product. Their use of rich colors and high-end finishes creates spaces that are truly spectacular and authentic. Loving their implementation of art installations – really adds that unique and eclectic touch to their luxurious spaces.
Website: https://www.imidesignstudio.com/
Chimera Interior Design 
About: Designer Valerie Borden doesn't have a specific style. Instead, her work is innovative and diverse, with each project projecting a matchless mix of comfort and beauty. From Mediterranean to Traditional, her design skills and astute attention to detail are remarkable. I love that she's used her experience with collecting vintage clothing and period furniture to inspire her eclectic design and final products.
Website: https://chimerainteriordesign.com/ 
Angelica Henry Design 
About: Native Arizonian, Angelica Henry is the founder and leader of Angelica Henry Design, and has a really assorted approach to interiors. Her unique ability to bring the outside in is portrayed in her mountain rustic and desert contemporary work. While all their residential work is spectacular, what makes them really stand out is their exceptional closet design. Check out their 'cozy cabin with rustic charm project for something really special!
Website:http://angelicahenrydesign.com/
Raegan Ford Interior Design 
About: Vibrance, innovation, and artistic craft are what characterize Raegan Ford Interior Design, and qualify them to be listed as one of the Top 20 Interior Designers in Scottsdale. Inspired by her international upbringing in Denmark, Hong Kong, and other exotic locations, founder Raegan Ford strives for excellence and sophistication in her work. These designs have that real timeless class suitable for any space regardless of size or budget. 
Website: https://raeganford.com/
La Maison Interiors 
About: If you're looking for that sleek modern look, with a splash of sophistication, then look no further! La Maison Interiors, established in 2011 is a full-service Interior Design Studio specializing in upscale residential interiors, high rises, model homes, and hospitality projects. I love how they subtly incorporate artwork into their designs, which really gives the space a special touch.
Website: https://www.lamaisonaz.com/
Studio Dwell
About: Studio Dwell is all about balance and harmony. With a large 25-person team that prides itself on being "approachable," they create spaces that are driven by quality and comfortability. These styles range from organic, industrial, refined and everything in between. I love their use of color and their ability to make a room really pop which is why they were added to the Top 20 Interior Designers in Scottsdale.
Website: http://studiodwell.net/
Living with Lolo
About: Living with Lolo is a Scottsdale based interior design firm that is all about personalization and passion. Founder and top designer, Lauren, or better known as Lolo,  specializes in Modern Traditional, Modern Contemporary, and Mid Century Modern Design. Her works have a really elegant feminine vibe to them, that adds an element of class and fun to any space!
Website: http://www.livingwithlolo.com/
McKenzie Architectural Kitchens
About: Anyone in the interior design world knows that kitchen design is a special science. If you looking for that flawless, timeless kitchen and cabinet design than McKenzie Architectural Kitchens are your guys! Inspired by his studies in anthropology, founder Donald McKenzie leads his team with vision and craftsmanship. I love how diverse their designs are, from sleek and modern to bright and beautiful. This firm is the perfect candidate for our Top 20 Interior Designers in Scottsdale!
About: http://www.mckenziekitchens.com/
Laura Kehoe Design 
About: Lauren Kehoe Designs is a Scottsdale-based design firm founded in 2010 by principle interior designer Lauren Kehoe. Her works have that really homey-rustic feel that makes you just want to cuddle up by a fireplace with a soft blanket and a good novel! Check out her designs of kids' bedrooms – they are super cute while being really practical and functional.
Website: https://www.laurakehoedesign.com/
reThink Interiors 
About: reThink Interiors is a Scottsdale based design firm Specializing in home-staging as well as residential design and renovations. Statistics show that staged homes spend 80% less time on the market and often sell for 20% more than unstaged homes, making it a pretty worthwhile investment! weather staging or designing, reThink leaves no stone untouched and has a keen sense for style and attention to detail.
Website: http://www.rethinkinteriorsandlifestyles.com/
Guided Home Design 
About: Guided home Design, founded and led by interior designer, Karen Ippolito is a Scottsdale-based design firm committed to luxury and class. Their finish selections and color corporation give you that really plush, rich, right-out-of-a-magazine feel which is why they were chosen as one of the Top 20 Interior Designers in Scottsdale. Check out their portfolio for tops and ideas on how to glam up your space!
Website: https://www.guidedhomedesign.com/