Top 20 Bathroom Makeovers of 2019
Let's talk about bathrooms! It would seem to us that bathrooms are just a place that requires being clean and sanitary, but this is where we are mistaken. The bathroom should have a calming and relaxing vibe to it, some nice scented candles, some books to read and of course a clean and fresh smell.
This is where design comes into the picture. It is so important to have a nicely designed bathroom because this is where you start your day every morning, brushing your teeth or taking a bath. So it's important to design the space to be relaxing and have good vibes.
Do you want to help yourself out by starting your day in a fresh and beautifully designed bathroom?   Here are some tips and ideas from the best bloggers around.
The DIY Playbook, Bathroom Refresh
At first, Casey from The DIY playbook was going to leave her bathroom as is and change it slowly as she went along.  She decided: "you know what? I'm an awesome designer, I'm going to remodel the whole bathroom".  (I'm paraphrasing, of course, I'm not really that good at reading minds yet). The first thing she did was change the floor tiles, once she did that the whole room looked different and she could continue with the designing stage. Then, she painted the walls a beautiful clay-greenish color that really upgraded the room and gave it a fresh new vibe. Lighting was very important and she chose these brass colored vanity lights which gave the room a traditional look.
Check out the incredible result.

The Collective Gen, Studio Bathroom reveal
After building an incredible studio underneath their home, Geneva from The Collective Gen decided to share with us her studio bathroom.  How exciting!! Her goal was to create a bright space and not use all the money in the world.  It was a little tricky since the bathroom is in a very dark place in the house, but don't worry,  lights can do it all. She very much wanted that antique style to her bathroom. For the vanity, she found an Old school Desk that would work perfectly.  Another antique find was the mirror which was part of a shelf.  She took the wood off and used the mirror on its own.  Now, this is called DIY, how incredible. With a few more decor additions the bathroom was complete.
A Touch of Pink, Bathroom Remodel
When Katelyn from A Touch of Pink, started remodeling her bathroom, she wanted the bathroom to reflect her personal style and match the decor in the rest of the house. Wow! This came out amazing!  She made a whole wall in the bathroom a beautiful grayish marble that made the entire room look luxurious and much bigger. She added different types of mirrors throughout the bathroom to give the room some texture to top it all up she added and hung art and decor to give the room that cozy feel that every bathroom should have.
Such an incredible result wouldn't you say?

Fresh Mommy Blog, Studio bathroom remodel
While remodeling her new home, Tabitha from Fresh Mommy Blog, came up with some challenges and successes. Let's check it out. When they gutted the place out they realized that the sink could be moved to another location and that was perfect. It was difficult to find a vanity that fit the space so… they DIY'd it and built it themselves and guess what – it came out amazing. She kept the room bright and fresh even though there is no natural light. She added a white sliding barn door, fabulous latter shelves for towels, and some fantastic decor. What an incredible transformation.
From nothing to something amazing.
Oh so lovely, Master Bathroom remodel
It can be very overwhelming when you move into a new place that needs a lot of work done, but you have to stop, take a breath, and do one thing at a time. Audrey from Oh so lovely did exactly that. With some help from professionals, she got the maximum from her master bathroom. There was a lot of things that needed to be changed, like the flooring, there was no storage space, the shower was not functioning, and the list goes on and on. She wanted the space to be beautiful and comfortable.  In just over a month, the bath was installed, the flooring was changed, and obviously, mirrors and decor were added. Guess what, the bathroom was complete and felt like a spa.
What an incredible transformation.
Jenna Sue Design co, My parents Master Bathroom renovation
Jenna's parents from Jenna Sue Design could take no more of their bathroom, although they had used it in this condition for so many years. It was time for a major makeover.  The first step was to demolish the whole room and start from scratch. To give the room that farmhouse style they used a fabulous brown barn door.  To get that rustic vibe they used a dark gray herringbone pattern for the floor, which matched perfectly with the dark brown vanity.  After adding art, decor, and mirrors, you can really see their choice of that country style. How beautiful.
The results are absolutely phenomenal.
Mademoiselle, Our Bathroom Renovation
One of the most exciting things about buying your own home is being able to style it and transform it to your own taste.  That's exactly what Jaime from Mademoiselle did. She decided that the best room to start remodeling would be the master bathroom. Choosing tiles is very important. You want tiles to be beautiful but also long-lasting. She chose with a hexagon Carrara marble tile. After searching for a while, she found the perfect vanity that matched her taste and style.  Next, she continued on to lighting.  She went with black mat light fixtures, adding a dark simple towel rack that gave the bathroom that luxurious vibe. Placing decor and different shapes around the room can really make a statement.  That is why she chose a round mirror to go over the vanity. And let me tell you, it really did change the vibe in the bathroom, with a calm and relaxing spa-like feel to it.
Check out the fabulous results.
Hey There Home, The kids brand new bathroom
Corey from Hey There Home is finally sharing with us her kids' bathroom remodel. Super exciting!!! From an off white-beige, dark and depressing room, she transformed it into something bright, and magnificent. For the tiles, she chose a beautiful white hexagon pattern that matched the ones on the bathtub walls.  She painted the room a light blue sea color, to match the striped blue white and green shower curtain, that she loved so much. So much creativity and we're not even done yet. She installed a new vanity from the IKEA kitchen line to give the bathroom some underneath storage. Extra storage in the bathroom is very important. She likes bright colors, so of course, she added some art to give the room a little more life. When the bathroom was complete it was almost unrecognizable. What a beauty.
Check out the after pics, Amazing.
A Beautiful Mess, Emma's master bathroom renovation
Emma from A Beautiful Mess absolutely loves her bathroom. The size is amazing.  Two sinks, two showers, she loves it.  The only thing she doesn't like at all is how dark the bathroom looks, so she decided to renovate and remodel.  The outcome was just fabulous. She started by changing the floor to a marble style tile. That alone brightened up the room. Next, she put a light-colored marble top on the new vanity and switched the lights to match it all. She also broke the half wall that was dividing the shower to the bathroom.  By doing that the bathroom looked even bigger, which is always a plus. She finished off the room with two round mirrors over the vanity, open back shelves with wooden baskets for storage and a plant to liven and brighten up the room. And here it is. What do you think?
She succeeded in her mission from a dark to bright and refreshing vibe.
Sugar & Cloth, New house master bathroom remodel
Ashley from Sugar & cloth did a massive change in her master bathroom from the floor to the ceiling. Let's see what she did. She changed the floor to a beautiful, unique, triangle light blue and white tile. Next, she ripped the bath up and replaced it with a white floating bath and extended the shower. You would think she would stop there but no, Ashley went all out. The fabulous light wooden vanity brightened up the room tremendously. Adding two mirrors one on top of every sink and changing the light fixtures matched it all together. To top it all off she added flowers for some color and put a piece of art over the tub to give the room a relaxing feel to it.
Wow! What an amazing transformation.
Lemon thistle, A modern bathroom makeover
In just seven weeks, Colleen from Lemon Thistle transformed her bathroom from an old dungeon to a fabulous and luxurious space. Let's explore what she did. She started off by replacing the floor and bathtub tiles with a light gray hexagon pattern. Continuing with her bathrooms theme, she chose a dark gray, double sink wooden vanity. Sometimes the small things can make a big difference. She replaced the toilet added two mirrors and changed the light fixtures. Now the room was complete. Colleen did an amazing job.

Now, look at this transformation, unbelievable.

Just a girl and her blog, Our Diy master bathroom
Sometimes, when we have a big project to complete, we feel that just maybe the end result will never come. This is how Emma felt from Just a girl and her blog.  When it was all said and done and the room was finished and her fears disappeared. She started off with putting board and batten 3/4 up the walls. This gave the room the elegant look that she loved. She continued by re-tiling the shower floor and walls and putting up a new shower curtain. After all that change the room was still missing something. It was missing some color. She had the perfect thing for that, an abstract painting she made herself. It fit perfectly over the toilet and gave the room that pop of color it was calling for.
What an awesome difference.
At home with Ashley, Bathroom reveal
This is a project that Ashley from At home with Ashley did for the one room challenge. After 6 weeks of hard work, she finally shared with us the final look. The bathroom was dark, black vanity, dark flooring, and gray wallpaper. She wanted something different, something with color and life. She started off by replacing the vanity with a white wooden one with some extra storage and a beautiful marble top. Adding flowery wallpaper throughout the room to give it that fun and bright vibe. Finishing off the room with a round mirror with a golden frame and a golden faucet to match it all together. After adding golden light fixtures and putting some decor, the room was complete. It looks like a bathroom out of a magazine.


Hydrangea Treehouse, master bathroom remodel
Even a small bathroom can be remodeled to a tee. Kelin from Hydrangea Treehouse transformed her small master bathroom into a beautiful and relaxing space. Let's see how she did it. Because it was small she decided to play with the layout and move things around. After hiring a contractor to do all the knocking down and building back up, it was time to use her sense of style and design. She found the wallpaper of her dreams and put it up herself. Now that's a DIY project! Next, she replaced the old vanity with a double sink and a white marble top. She continued with a beautiful but simple mirror and two side lamps. To get to that calming vibe she always dreamed off, she put together some flowers and decor.
Wow, it's unrecognizable.
Designing vibes, Boho farmhouse master bathroom remodel
Remodeling a bathroom and changing the whole theme is quite an art. Let's check out how Erica, from Designing vibes, transformed her master bathroom into a boho farmhouse theme. Previously it was a 1980's style, with no natural light. She left the layout the same but changed and added a few things here and there. She broke down the wall separating the bath from the shower and added a window to brighten up the room with natural sunlight. She accomplished that boho farmhouse look by replacing the flooring with fabulously designed gray tiles. She added a new white bathtub, a beautiful farmhouse style vanity and some towels to finish up the look. After the addition of a round mirror over the sink, a wooden stool, and some decor, the room transformed into that spa-like feel that every woman would love in her home.
Absolutely incredible transformation.
Centsible Chateau, master bathroom remodel
When remodeling your master bathroom you should always have a set budget (so as not to end up spending more than you can afford). When Heather from Centsible Chateau started remodeling her bathroom, she made sure to stick to her budget, with incredible results. The bathroom was in terrible shape and in need of an extreme makeover from ceiling to floor. She started off by replacing the flooring with Tarkett vinyl flooring which changed the room's vibe immediately. With the extra money that she saved with the flooring solution, she installed a phenomenal white antique-looking vanity with a beautiful marble top. For the finishing touches, she had the bathtub and walls glazed, added two mirrors and changed the light fixtures. She succeeded in transforming her old bathroom dungeon into a relaxing space. She did all this on a budget and with beautiful results. Heather, you made it possible, how incredible!!
Loving the new change.
SF Girl By Day, My bathroom remodel reveal
Don't you just love it when you walk into a bathroom and you just love the style and theme? And kind of just want to chill in there for a few minutes? This is exactly the way Veronica, from Sf by day felt after her big bathroom remodel reveal. Let's see how she did it. She began by replacing the flooring with a black hexagon tile and a white rim which gave the bathroom that dramatic feel she always wanted. For that vintage modern look, she chose a black vanity and mirror that screamed out that sophisticated style. She moved on to replace the bath with a floating white bath with a fabulous black faucet to match the room's black and white dramatic theme. Who doesn't love to relax in the bath? Veronica definitely does and therefor she added a wooden ladder shelf to hold her bath accessories. To top it all off, she added scented candles and some decor to finish it off with that fresh smell that every bathroom should have.
Unrecognizable.
Sima Spaces, Hideous to Heavenly Bathroom Remodel
After 3 months of hard work, Laura from Sima Spaces has finally finished remodeling her hallway bathroom and is ready to share it with us. "And there was light".  Laura had transformed her hideous and dark dungeon into a beautiful and modern-looking bathroom. To get that bright look she wanted, she painted the walls white. That alone helped a lot. For some contrast color, she continued by installing a black wooden vanity with a Carrera marble top. She changed the flooring to a fabulous hexagon white tile. To match the theme of the room, she added black light fixtures and black faucets. To give the room that finished look, she placed a mirror over the sink and added colorful art to liven the mood.
What a beautiful transformation.
Room for Tuesday, Guest Bathroom Reveal
Beginnings are always exciting. Sarah, from Room for Tuesday, was ecstatic to share with us the finished result for her guest bathroom remodels.  To get to that finished product, she made sure to stick to her budget by doing most of the work herself. She chose a classic black and white theme, using white vanity with a black marble top. Then she sowed the white shower curtain and her husband emmet build that beautiful burl vanity table.  Finishing up the room with some shelves for storage and some nice historical art. Doing it yourself will really save you a lot of money and not take away from that luxurious result.
Look how incredible this guest bathroom came out. Unbelievable.
Vintage Refined, Bathroom Makeover Reveal
A bathroom should always look fresh and clean, but the most important part is for it to at least be a functional bathroom. Unfortunately for Ashley, from Vintage Refined, Not only was the bathroom old-looking, but it was also barely functional. And let me tell you she just had enough. After demolishing the room she started from scratch. She retired the floor, added a white floating bath and installed a brand-new vanity. For some finishing touches, she added some art and decor to give the bathroom the relaxing and calming vibe she always dreamed of. Check out the finished product.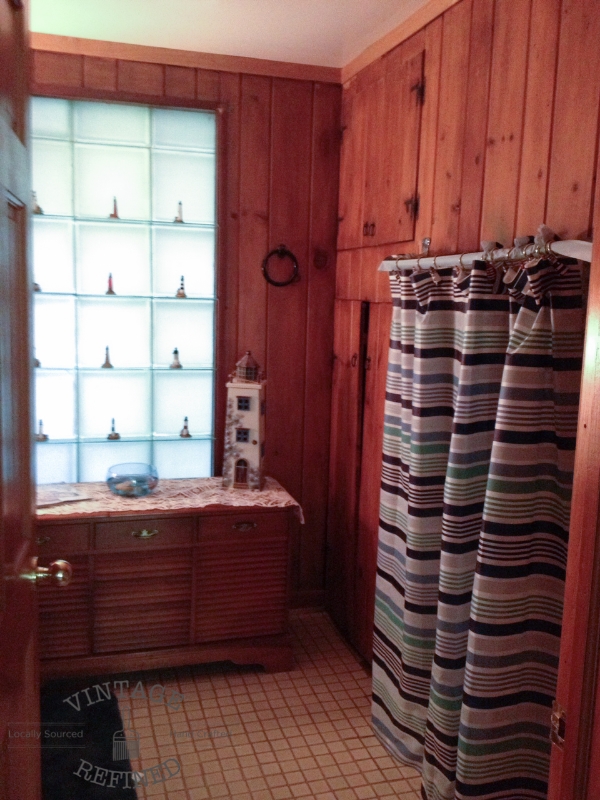 Incredible transformation.
That's it folks!
We hope you enjoyed our top bathroom remodels from last year, please let us know what you thought in the comments (extra points for pointing out which one of these remodels was your favorite and why).
Cheers!
Hindy.