Top Interior Designers in Austin
Austin, the capital city of the Texas state is home to many beautiful lakes and rivers, including Lady Bird Lake and the Colorado River. Austin got its name from the colorful glow of lights across the mountains just after sunset.
Austin has always been a place that wanted to protect its eccentricity and diversity. That's where the slogan Keep Austin weird came from to ensure the people of the town always felt comfortable in their skin.
Here are our Top picks for Interior Designers in Austin. We would love to hear what you think!
April Interiors
About: At April Interiors we focus on shopping smart and keeping costs down. Every homeowner should have a beautiful home whatever the budget. We bring a broad knowledge of interior design as well as construction means and methods. Your April Interiors designer is capable of managing your project from start to finish. We pride ourselves on meeting budget and scheduling requirements. Our experience ranges from modest homes to multi-million dollar homes. Here at April Interiors, it is our goal is to work closely with each client to determine and create an environment that is a reflection of their needs; whether it is a single room or an entire home. It is our philosophy that open communication is the key to achieving your desired results.
Website: www.aprilinteriors.com
Turnstyle Design
About: Lieve Saether is the lead creative mind behind Turnstyle Design. Determined to provide interiors that capture both the heart and personality of a home's inhabitants, she skillfully guides our clients through what is often considered an overwhelming process. Driven by the philosophy that a home is the most poignant reflection of who we are, her hallmark is to truly understand a client's needs and to push them beyond their comfort level. This results in spaces that reflect individuality, playfulness, and approachability. Her homes are meant to be lived in. Known for unusual patterning and complex color stories, Lieve's work comes with a rich artistic sensibility, accommodating each project's uniqueness. Her multi-cultural background from both Europe and different parts of the United States has infused her with a strong understanding of numerous visual and historical design references. Plain and simple, Lieve loves helping homeowners tell their stories, wholeheartedly believing that the process of designing a home should always be an enjoyable one.
Website: www.turnstyleid.com
Amity Worrel & co
About: Amity has been working in the design field for over 20 years in a variety of environments–from the urban landscape of NYC to the beaches of the Bahamas. After starting her career at Christie's Auction House, where she fell in love with the design and learned a great deal about furniture and art, Amity attended both the New York School of Interior Design and Parsons School of Design. Amity had the invaluable opportunity to work very closely with two of the nation's top interior designers, Jeffrey Bilhuber and Tom Scheerer, for nearly a decade. While at those high-end residential design firms, she worked with tastemakers, style leaders, and celebrity clients to create interiors that satisfied their discerning and demanding tastes. She launched her own firm in NYC in 2006. Amity returned to her home town of Austin in 2008 to set-up shop as Amity Worrel & Co and has grown to include an accomplished professional team who have helped achieve published designs for residences throughout the city. Her native understanding of the Austin lifestyle and its neighborhoods are an invaluable asset to navigate well through this fast-paced, booming environment.
Website: amityworrel.com
Allison Jaffe Interior Design
About: As an Austin award-winning interior designer, I'm ecstatic about the opportunity to collaborate with homeowners such as yourself to create spaces where you feel most self-expressed. My gift lies in being able to intuitively tune in your vision so I can understand your unique needs and wants for space. I then translate your ideas into contractor-friendly plans that move efficiently from dream to execution. I didn't start out in the design world. In fact, I first excelled in the sciences, pursuing a degree in Neuropsychology from the University of Pittsburgh. After graduating, I worked for a contract furniture group, which is where the idea of studying in the field of interior design first sparked. One day, I found myself admiring plans for an office and loved how it all flowed and came together. As I looked down at the lines that created the rooms, I could see how space was a perfect puzzle, a problem to be solved and I wanted to solve it. I knew in an instant, like a bulb going off in my head, that interior design was a path I had to follow.
Website: allisonjaffe.com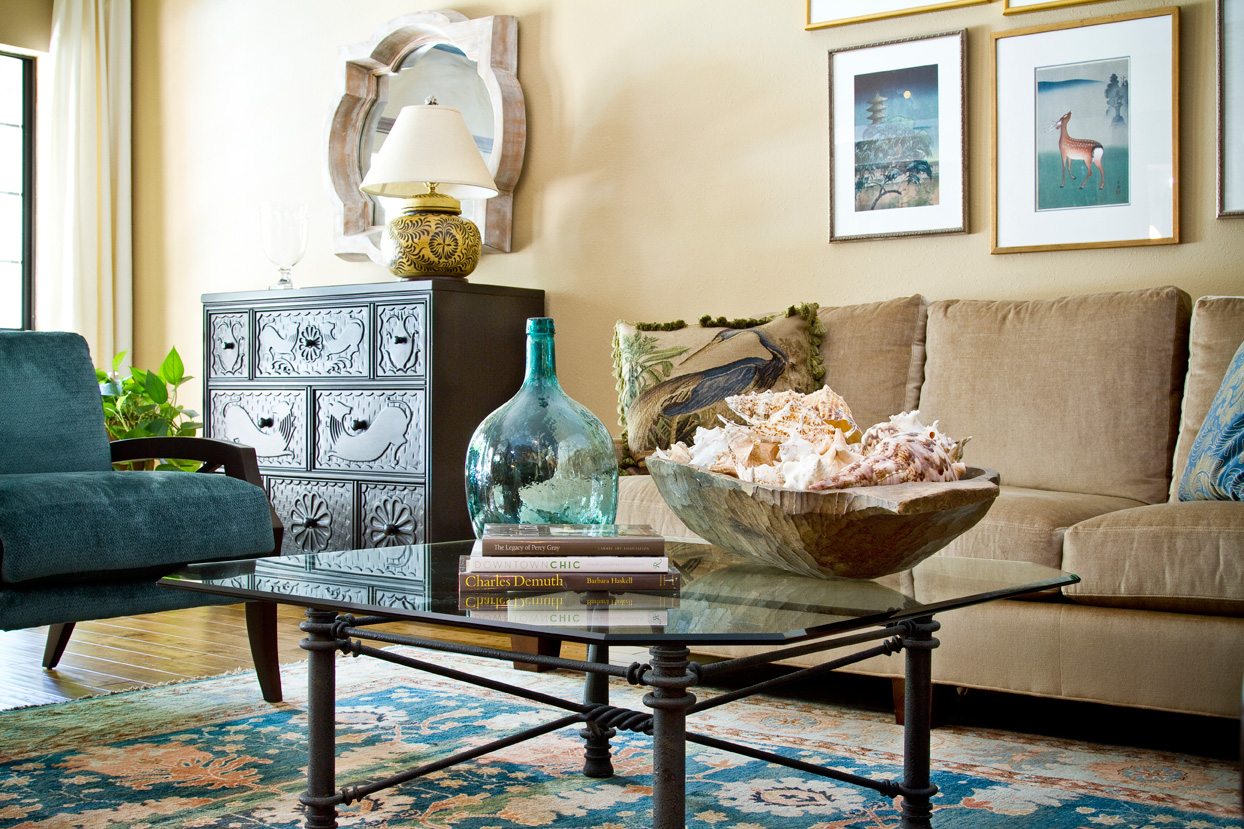 Dawn Hearn Interior Design
About: Dawn Frank Hearn has been practicing interior design in the Austin area since 1993. She is a graduate of Abilene Christian University, where she earned a Bachelor of Science in Interior Design. Dawn is a licensed interior designer in the state of Texas (Texas Board of Architectural Examiners #9501) and a professional member of the American Society of Interior Designers (ASID). She is also a member of the National Association of the Remodeling Industry (NARI) and has been a judge and committee member for their annual home tour. Dawn's designs have been recognized both locally and nationally. Locally, she has participated in numerous awards show houses and parades of homes throughout the Austin area. Her peers in the Austin chapter of ASID have recognized her work with a Design Excellence Award. Her remodeling projects have earned several NARI Coty (Contractor of The Year) awards on both a local and regional level. Her residential interior designs have been featured in Texas Home & Living, Austin American Statesman, Austin Home & Living, Austin – San Antonio Urban Home and Home Décor and Design magazines. Dawn has also been published nationally in the book Southern Rooms by Rockport Publishers, and a remodeled kitchen was featured in an issue of Southern Living Room-by-Room Makeovers. Her holiday decorating projects have been featured in both Victorian Homes and Southern Cottage magazines.
Website: www.dawnhearn.com
Bandd Design
About: Sara is the mastermind behind the design. Prior to launching BANDD DESIGN, she spent the first phase of her professional career working in the fast-paced entertainment and sports industries, as an executive at companies such as SXSW, Creative Artists Agency (CAA), and The Ellen DeGeneres Show. Her past experience helps her deliver timeless, unique designs for her clients. She believes the design process should be highly collaborative and feel authentic to each individual. An Austin-native (a rare breed!), Sara spent nearly a decade in sunny Los Angeles, California, where she met her writer husband, Dana, while they were both chasing the Hollywood dream. Now back on home turf, Sara and Dana enjoy endless amounts of breakfast tacos and college football (hook 'em!) with their two daughters.
Website: bandddesign.com
Etch Design Group
About: Etch Design Group is a full-service interior design firm based in Austin, Texas. We are dedicated to crafting custom residential and commercial design experiences by collaborating with our clients to determine the best creative solution for each project. Together, we strive to design spaces that offer a delicate balance between purpose and beauty.
Website: etchinteriordesign.com
Heather Scott Home & Design
About: Heather Scott Home & Design was founded by Heather & Scott Harkovich in 2006. What began as a home décor boutique has grown into one of the best design firms in Texas, winning national recognition and numerous awards for both residential and commercial interiors. As the firm has grown, so has our team. Heather Scott Home & Design is now comprised of a solid team of owners, Heather and Scott, alongside Interior Designer, Raquel Skrobarczyk, and Chief Operations Officer, Emily Ward. Raquel and Emily currently oversee the Austin office, as Heather and Scott explore the west for future growth opportunities.
Website: www.heatherscotthome.com
Spaces Designed Interior Design
About: Komal Sheth is an Austin based, award-winning, Interior Designer and real estate entrepreneur. In her interior design work, a distinct creative approach, sophisticated aesthetic sensibility, and attention to detail are always discernible. Having collaborated with renowned Interior Designers in Bombay, India, Austin, Dallas, and various parts of California allowed Komal to shape her personal style, where the combination of luxury touches and global tendencies blend seamlessly. Driven by an entrepreneurial spark, Komal founded Spaces Designed in Austin in 2005, multifaceted interior design and real estate agency integrating architecture, remodeling and interior design for luxurious, high end, residential and commercial real estate. Spaces Designed was devised with one goal in mind, "the home should be a reflection of the Client's vision and taste with the Interior Designer's touch to exceed expectations". Out of concern for future generations, Spaces Designed strives for sustainability and integrates environmentally conscious design principles in all projects and internal operations.
Website: spacesdesigned.com
Michelle Thomas Design
About: Michelle Thomas Design is a full-service Austin, Texas interior design firm specializing in residential & Commercial interior design for new construction and remodels. In every project, Michelle strives to reflect her client's personal style with timeless designs emerging from the architecture of the home and lifestyle of each client. She provides comfort and functionality of design along with an inviting atmosphere in the home, all while creating a pleasurable experience for every client.
Website: www.michellethomasdesign.com
Urbane Design
About: Jessica Love has the unique ability to harness what makes her clients truly unique and bring those traits to life through interior design. As a graduate of Sam Houston State University with a Bachelor of Science in Interior Design, she learned the rules of the trade at a young age so that she can now—strategically—break them. Jessica believes in individuality over trends and works to bring her client's personalities through in each and every design. She is intensely creative and highly adaptable. These traits have built her a loyal clientele over the last 15 years who value her transparency and the ease she brings to the design process. Jessica believes that confidence in our lives begins with a well-designed, carefully thought out home. She brings this sense of empowerment not only to her own clients but to her community through volunteer positions with local non-profits like Big Brothers Big Sisters. Additionally, she serves on the board for Ten Thousand Villages and partners with Austin Habitat for Humanity as the beneficiary of her annual music showcase, Open Door Showcase, during SXSW. As a huge animal lover with two rescue pups of her own, Jessica has volunteered in the past for Austin Pets Alive! and Barkitecture. She also just launched her own 501c3 called Design Changes Lives, whose mission is to design spaces for children in order to build confidence, empower and improve the quality of their lives.
Website: urbanedesignstudios.com
Next Level Austin
About: As founder and creative lead of Next Level Austin, Janice is intimately involved in every project.  She brings an innate design sensibility built on over 20 years in the industry.  Known for her contagious enthusiasm, passion for the unique, and intricate layering of color, shape, and texture, Janice playfully pushes her clients to explore outside their comfort zone.
Website: www.nextlevelaustin.com
Fyi Designs
About: Upon realizing his great deal of respect and appreciation for the perfection, detail, and preciseness of a fresh set of blueprints, Frederick S. Yandrisovitz embarked on a career in Architecture/Interior Design. He began by learning the now "dying art" of hand drafting when he was 15 years old. While concentrating most of his interest in architecture, he soon advanced and started using the computer-aided design program, AutoCAD Release 9. As time progressed, so did Frederick's knowledge and interest towards design. He set in motion a personal goal to learn as much about construction and Jobsite management as he knew about design. He worked on-site, and with hands-on experience, he learned the many trades and talents necessary to make any sized project successful.
Frederick received his formal education from South West Texas State University (Texas State University) at San Marcos, Texas. He enrolled and declared his major to be Interior Design; Family and Consumer Sciences. Although registered and attending classes, he also continued to work in the "contracting/construction" industry to support his financial requirements and further his experience. Coinciding with his education, the knowledge that Frederick continued to acquire spanned from carpentry, electrical, and plumbing, to being a Project Supervisor of several major projects; making way for a well-rounded designer. In addition to his major, he also minored in Art and Technology. Studying the history of furnishings, architecture, art/music, and furniture design/construction, Frederick has found that he incorporates and uses his knowledge in design every day.
Website: fyidesignsllc.com
Britt Design Group
About: Laura Britt Recognized as an industry leader in health and wellness design for the workplace and home, Laura Britt heads one of the region's most successful and versatile full-service interior design firms. Ms. Britt, a registered interior designer, also holds a Master of Architecture degree from the University of Texas School of Architecture with an emphasis on sustainability. In addition to managing her design practice, she founded her own American-made, modern furniture company focused on creating low-emitting healthy furnishings for use in commercial and residential settings. Previously in her career, she successfully managed and designed large-scale commercial interior design and architecture projects as the Interior Designer for the Air Force Academy. She and her firm have extensive experience in Residential, Multi-family, Student Living, Commercial Offices, Hospitality, as well as Governmental and Higher Educational projects. She currently serves on the Advisory Council for the University of Texas School of Architecture and supports education about health, wellness, and sustainability as related to the built environment. She resides in Austin, TX in a LEED Platinum certified home with her family.
Website: brittdesigngroup.com
Cravotta Interiors
About: Cravotta Interiors designs homes people love being in and escaping to, homes that embrace a sense of history and a sense of adventure, homes that become part of their biography and tell the world who they are. Taken all together that sense of belonging can be translated into a place called home. That's what we believe. It's also what we do. Here's how we do it. We don't just collect pieces, we compose spaces for living. We curate every piece and every aspect of your home…from your front door to your art collection, and all points in between. We create a living experience that's as beautiful as it is functional. A Cravotta Interior lets life unfold in livable luxury, among surroundings that express the highest ideal of who you are.
Website: cravottainteriors.com
J. Fisher Interiors
About: I'm an Austin-based interior designer who embraces East Austin funk with the polish of Tarrytown. My designs are unique and have character. They've got personality and soul too, but most importantly, they're comfortably livable with some serious depth that reflects the personalities of those who live there. Every client is different, and I'm inspired by their unique stories. These spaces aren't just rooms: they're little love letters to my clients. I love to take the things that make them swoon and weave them into my designs. Got a killer guitar collection? Let's get it up on the walls. Obsessed with succulents? Let's suck it up with a living wall and pray it gets enough sunlight to stay alive! My goal is to incorporate your quirks, talents, and passions so when someone walks into your house they'll say, "Wow, this looks like . . . you!"
Website: jfisherinteriors.com