Top Interior Designers in Houston
Houston, Texas has been consistently ranked as a Top Destination city by Forbes and the Business Insider. The City connects with its residence through nature, culture, and art. with many festivals and parades throughout the year to celebrate the diversity of its people. Including the Bayou City art festivals, the Houston Auto show, and the Houston Greek Festival. Houston is known for its diverse food and restaurant culture. It has been named one of the American's best Food Cities. Houston sounds like a dream place to be.
We've compiled a list of The Top Interior Designers in Houston, check them out!
Laura U Interior Design
About: Laura Umansky is the Founder and Creative Director of Laura U Interior Design, a firm based in Houston, TX. The design has always been a part of her life. From a young age, Laura was deeply influenced by her environment, constantly finding ways to arrange her possessions with meaning and purpose. Seeing her father build her childhood home in Seguin, TX was the starting point of her career. "To see what he could do that, create our home with his own two hands…that lit something inside of me," says Laura, who went on to study art at the University of Texas and subsequently obtain her Masters in Architecture from the University of Houston. In 2006, she founded Laura U Interior Design, bringing her unique vision for Classically Current interiors to life. "Interior design, the way we practice it, is a true luxury," Laura says. "Every part is crafted by human hands. We take great care to find out what matters to our clients most, and then to articulate that through great design." Every interior is an authentic reflection of our clients' passions and values so that just like Laura, they are never without something they enjoy.
Website: laurauinteriordesign.com
By Design Interiors
About: Peggy Fuller, owner, and founder of By Design Interiors, Inc., is an Interior Designer who has been practicing design since 1984. Her experience and knowledge of the industry have allowed Peggy to succeed in delighting her clients. She works successfully with homeowners, architects, home designers, builders, and remodelers, to create uniquely beautiful spaces. Peggy's designs have been featured in several publications including Houston Design Resource, Texas Home and Living Magazines.
Website: www.bydesigninteriors.com
SweetLake Interior Design
About: Lori has been providing some of Houston's most fabulous properties with her unique custom designs since 1998. She is able to transform homes into elegant spaces and rustic habitats complemented with 21st-century style and amenities. Our experience in all aspects of interior design enables us to provide a variety of design services. Our clients are the heart of SLID and we listen to what they want and stay true to their vision; while incorporating individual, eclectic style. Happy clients are our only clients!
Website: www.sweetlakeinteriordesign.com
Pamela Hope Designs
About: Pamela's love for design started at an early age. When she was twelve, Pamela came home from school to find that her mother and an interior decorator had transformed the family living room. When she saw the new draperies, she remembers thinking was, "our house is beautiful!" Through years filled with Sunday drives to look at homes and youthful adventures in Europe, Pamela grew to love architecture and décor. By the age of 21, she'd live in Italy and France — life-changing experiences that enriched her approach to her craft. After a successful career as a public and congressional affairs officer for a large government agency, Pamela followed her passion by opening her own design company in 1999. She trained with a well-known Manhattan designer and author, studied at the Harvard Graduate School of Design and completed a home building course.
Website: www.pamelahopedesigns.com
Houston Affordable Designs
About: Houston Affordable Designs has a passion for helping others create the space of their dreams. And the budget is the funniest part! Keeping the space at a price that the client is happy with is a rewarding challenge. And you will not be disappointed. Over 150 rooms have been done at Houston Affordable Designs, and all sizes and shapes are welcomed.You decide how much you can spend, and everything you would like to have done. Once agreed upon, Houston Affordable Designs helps you get all your new products and design ideas to you. smart shopping to achieve the design you want. We include shipping, handling, taxes, assembly, and set up in the total package price. Even returns and exchanges can be made so you are never stuck with a piece that isn't perfect.
Website: www.houstonaffordabledesigns.com
Jane Page Design Group
About: Jane Page Design Group was established in 1980 with our office, showroom, and warehouse conveniently located in Houston, Texas. This award-winning interior design firm continues to distinguish itself with unparalleled attention to detail and an insatiable desire to exceed client expectations. With projects spreading from east to west coast and everywhere in between, Jane page Design Group has years of experience in both residential and commercial design, remodels and new construction. Jane page Design Group is a full-service Houston interior design firm, meaning we work with our clients from design concept through construction, and finish with the design and furnishing of the interior. Our designers collaborate closely with the finest contractors, architects, and vendors to ensure custom work is on point and budget requirements are met.
Website: www.janepagedesigngroup.com
Paloma Contreras Interior Design
About: Paloma Contreras is an award-winning interior designer, tastemaker, and design influencer based in Houston, Texas. Paloma's design sensibility is a modern take on traditional style– gravitating towards classic silhouettes and timeless pieces paired with a touch of glamour and an infusion of color. Paloma has honed her distinct eye for style through a decade in the design industry and a lifetime of appreciating beauty in all of its various forms. She has developed a reputation for designing beautiful interiors in a broad range of styles which are executed in a manner that is polished, refined, and effortless.
Website: www.palomacontreras.com
Ginger Barber Interior Design
About: "Keep it simple" is Ginger Barber's motto. Her love of an uncomplicated look, paired with natural, textured materials provides the cornerstone of her delightfully harmonious designs. Ginger approaches interiors with a neutral palette. She prefers solid white, beige or a subtle repetitive pattern, and then let nature take its course. In 1993, she decided to expand her business by opening The Sitting Room, which is now located in the West Alabama section of downtown Houston, TX. Ginger's sense of style and residence "du jour" in Houston are frequently written about and photographed in interior design blogs and major magazines.
Website: www.gingerbarber.com
Eklektik Interiors
About: Kathy is the principal designer and owner of Eklektik Interiors and brings a broad perspective and exclusiveness to her interior designs. Inspired by world travels, Kathy focuses on creating a personal design that is timeless. With extensive residential as well as commercial experience, Kathy has found that a vital key to truly successful interior design projects is communication. She believes the design process should be an enjoyable one. By helping her clients better understand the process, the experience becomes less intimidating for them. Her ability to read her clients is a strength that helps her to create that 'signature' environment for each space. Kathy received a degree in Interior Design from Brigham Young University and is a licensed and registered interior designer. Kathy is a member of the Advisory Board of Houston Community College Interior Design Department, a member of the Greater Houston Builders Association Custom Builders Council, a Houston Livestock Show and Rodeo volunteer for the past eight years, actively involved with HomeAid Houston, a charity sponsored by the GHBA, and a regular presenter and contributor to building industry organizations and publications.
Website: eklektikinteriors.com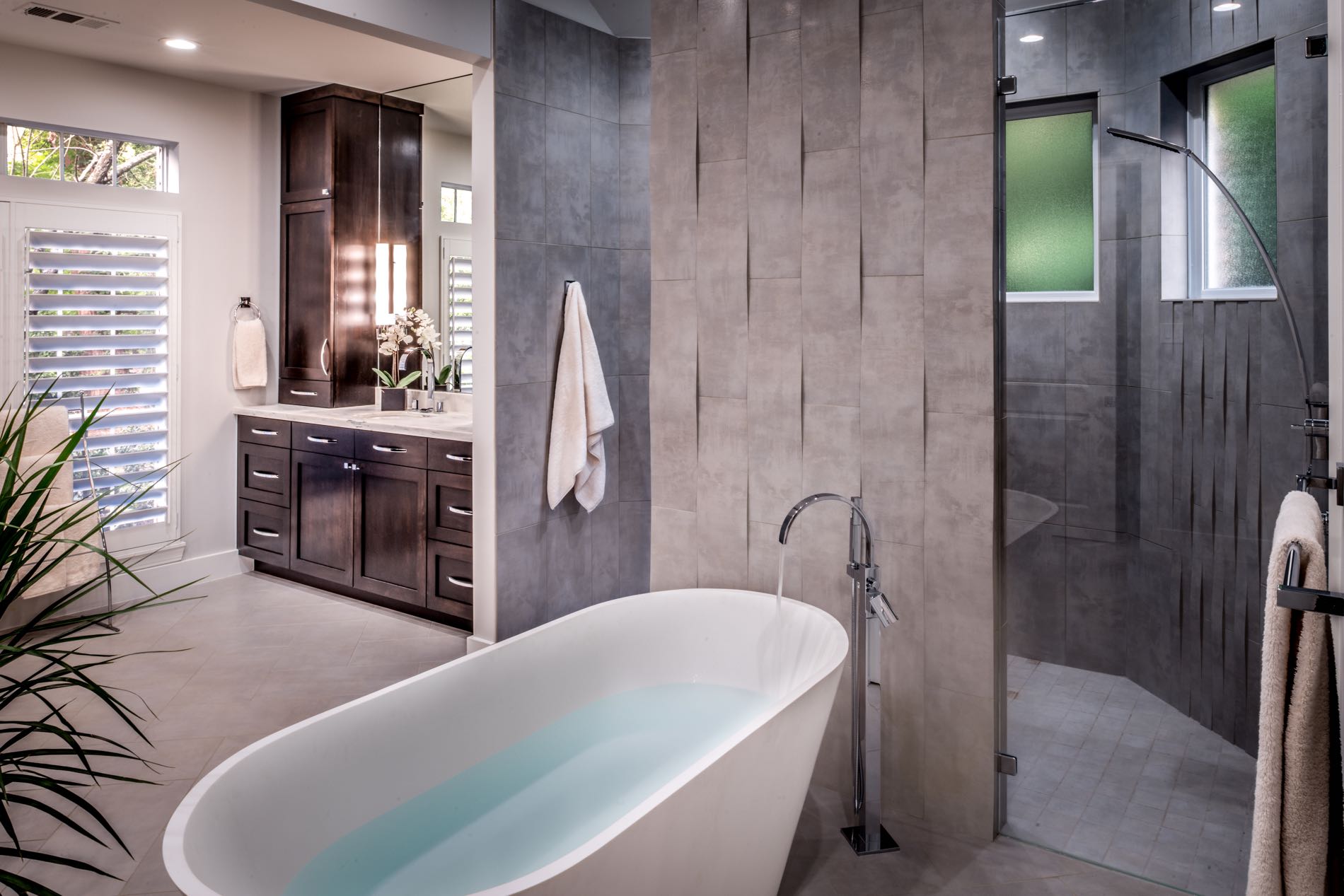 Estrada Interior Design
About: Estrada Interior Design is a full-service interior design company specializing in renovations and new builds in the Greater Houston area. Taking on both residential and commercial projects big or small, we provide a full range of professional design services to successfully guide your project from conception to completion. From custom-built furnishings, to complete redesign or just adding fresh style to an old space, we partner with our clients to help them realize their vision with our trusted experts.
Website: www.estradainteriordesign.com
Wendt Design Group
About: Wendt Design Group is a full-service design firm that serves a wide range of clients working on diverse projects such as large estates, residential high-rises, smaller homes, corporations, restaurants and hotels. The firm has worked both locally and internationally to complete projects including a five-star restaurant, a trendy London apartment and a renovation of a historic church. Wendt Design Group has vast experience in all styles of interior design. Our current emphasis on design looks is more transitional, contemporary or classic modern. Our firm's professional team of designers will work with you to create an environment that is not only unique to your personal style and sensibilities but is also functional and encompasses your individual lifestyle needs.
Website: www.wendtdesign.com
Missy Stewart Designs
About: Having co-owned a construction firm for over 25 years, Missy understands the importance and art of working with contractors and designing for a variety of finishes and home types. Over the years, Missy has built professional relationships with a variety of trusted vendors and craftsmen. This is imperative to create a complete space. Missy works with them to deliver a finished product that is not only beautiful but well built. Simply put, working with Missy means working with a full team of home improvement professionals who cater to you. Missy designs homes where memories will be made for years to come and has a great time along the way.
Website: www.missystewartdesigns.com
Jann Wisdom Designs
About: Jann always: sticks to your budget, draw up a list of instructions for you and your subcontractor for every choice you make, meets all deadlines while exceeding all expectations, attends your property frequently to address concerns as your home is being built and always reviews all architectural plans before they are finalized so no future problems arise. There are many reasons to choose Jann to style your home but to really understand how great she is you need to experience her work and expertise for yourself. In addition to new home building specifications, Jann also provides an array of other services including custom upholstery and drapery and a unique one of a kind store with all sorts of home accessories. This is one of many projects of Elizabeth Frost, a Penthouse at The Hanover Montrose.
Website: jannwisdomdesigns.com
Abel Design Group
About: Founded in Houston, Texas in 2001, Abel Design Group has grown into a premier, mid-size architecture and design firm, licensed in thirteen states with projects across the globe.  We offer architecture and design services for corporate, hospitality, restaurant and retail clients. With completed projects in over 16 countries across the globe, there is only one question. Where do you need us to be and when? Design is our life. We are innovative and driven. We strive to discover design solutions that are specific to the needs of our clients. Our success is based solely on satisfaction with the services we provide. Corporate. Hospitality. Restaurant. Retail. Education. Mixed-use. We've got you covered.
website: abeldesigngroup.com
Chairma Design Group
About: Cindy Aplanalp-Yates has been professionally designing for nearly a decade, but her love of design started long ago, however she didn't get to attend design school until she raised her family. Winner of numerous Houston's Best, Prism, ASID, HGTV's Show- House Show-Down and other building/design related awards, her work is frequently published. Her close connection with her clients, easy living, yet elegant interiors are as unique as the clients she and her team design for. A believer that the best projects come from the collaborative efforts of her design team, the client and other engaged professionals. To Cindy, her work feels like play.
Website: chairma.com
Gin Design Group
About: Gin is the founder and creative director of Gin design group, an award-winning interior design firm of dynamic creators and designers. Gin's diverse background in design coupled with many years working in the food and beverage industry provided her with a strong foundation to establish and develop her prolific interior design practice in 2009, which specializes in developing originative and fully integrated designs for F+B concepts.
Website: www.gindesigngroup.com