Top Interior Designers in Mobile
Mobile city in Alabama is located on the Mobile River, the only Saltwater port on the north-central Gulf Coast. A historical place filled with architecture and design and with a fascinating story to tell. It is considered to be one of the Gulf Coasts' cultural centers, with art museums, the opera, professional ballet, and the symphony orchestra. This city has one of the largest carnivals which dates to the catholic French colonial settlers who celebrated it back in the 1830s. In this article, we present to you our picks for the Top Interior Designers in Mobile.
Elizabeth Hall Designs
About: Elizabeth Hall Designs is passionate about creating beautiful affordable interior spaces that are custom designed to reflect the client's personality and style. What Elizabeth loves about design is the aspect of problem-solving that it involves. It is Elizabeth's job to find the best solutions that will look great and last while taking into account any special considerations. She also enjoys the process of listening to the client and putting into visual form the concepts that the client is dreaming of to give them a space that they can truly say reflects everything they wanted. If you are looking for a designer that listens to your design needs and creates spaces that you could only dream about, then you have come to the right place.
Website: www.elizabethhalldesigns.com
Beachside Interiors
About: Beachside Furniture & Interiors is dedicated to bringing beautiful and affordable furniture to the Gulf Coast area, including Pensacola, Foley, Orange Beach, Mobile, Fort Morgan, and Dauphin Island.  We have new products arriving daily, so come by and browse our collection of stylish furnishings. Whether you are updating a few key pieces or furnishing your home or condo, we can help you find the right items to match your style and your budget.
Website: beachsidefurnitureandinteriors.com
Feather Your Nest Interiors
About: Mary Jo Matranga and daughter, Dominique Hicks have partnered together to create a full-service design firm serving Mobile and Baldwin County. In 1975 Mary Jo opened Feather Your Nest with Dominique joining the family business in 1988. Mary Jo and Dominique's 50+ years of combined experience and sophisticated taste helps to guide clients in making a house into a home. Their specialty is creating spaces that are both comfortable and elegant while incorporating each individual client's needs. Feather Your Nest has two showroom locations continuously full with an array of traditional and contemporary gifts, fine art, furniture, and accessories.
Website: www.fyninteriors.com
Blondiesloft E-Design
About: Catz Divirgilio, owner, and founder of  Blondiesloft.  My design journey began 9 years ago, working as an Interior Decorator at one of the local design houses, on the Gulf Coast.  After several years of dedicated work, I decided to spread my wings, and fly solo.  It is the best decision, I have ever made!  It has taken several years to build and brand Blondiesloft, and to show the world we are not the typical decorating service. We are flourishing, I'm so excited!   What sets us apart from our competitors. is the honest collaboration between designer and client.  We understand it is ALWAYS about the client, and their need, NOT ours. Blondiesloft encourages our clients to be a part of the process, from start to finish.  In fact, we believe, their involvement, is KEY,  to a successful design.  Simply put, good design should reflect each client's unique style, personality, and budget PERIOD!   We go that extra mile, we get "Up Close and Personal"  to help them express WHO they are,  through their home surroundings.   When both parties feel free to express their viewpoint, the dance begins and a one-of-a-kind design is born. Here at Blondiesloft, we are not just creating beautiful spaces, we are building relationships, to me…. that is what it's about!
Website: www.blondiesloft.com
Hollis Interiors
About: Serving the Gulf coast since 1952, Hollis Interiors is an interior design store offering services for clients that seek personalized attention with their design choices and furnishings for their primary residence, vacation home, resort or rental property. With over 100 years' experience, our goal is to offer knowledge through personalized attention during the design process and to make it fun for our clients. We also provide design resources and products to better help our clients through special purchases of furniture, fabric, and accessories. The total experience is provided in a way to inform, inspire, and help meet our clients' needs. The process of transforming their home, vacation property or business to become a unique and personalized expression of themselves and add to their enjoyment of that interior space.
Website: hollisfurnitureandinteriors.com
Kay's Interiors
About: Welcome to Kay's Interiors Inc. and meet me, Sharron Kay McMillan, owner, and designer. As a graduate of Mississippi University for Women, with a Bachelor of Fine Arts in Interior Design, I have enjoyed providing excellent interior design for more than 30 years. I have extensive knowledge and experience in all products and services for design, decorating, and furnishings of residential and commercial interiors. I have a great love for design and I am very dedicated to making each client's job individually their own. As a result, I have many great and repeat clients. I look forward to bringing your visions to life!
Website: www.kaysinteriorsinc.com
J. Brown Interiors
About: Joyce Brown is a designer with more than 20 years' experience in professional floral and interior design.
She is a former Allied Member of American Society of Interior Designers (ASID) (12 years) and previous
Certified Master Floral Designer. Her remarkable eye for color, composition, and placement gives her a unique ability to visualize interior spaces for their potential and then translate her ideas to help you see your dream come true. Whether assisting you with a room make-over using your existing furniture or helping you select new furnishings, Joyce will create a very high-quality look to your interior that exceeds your expectations! Joyce is an independent affiliate of Ethan Allen and also has access to a broad array of other fine furniture sources as well as window treatments, artwork, flooring, and accessories for any size or style of home or office.
Website: www.jbrowninteriors.com
House Plus Love
About: Hey Y'all! My name is Brittany, a modern southern gal with a little sass! Growing up, I was always the girl with crayons, colored pencils, or paint in hand. I continued my creative journey at Auburn University and graduated with a degree in Interior Design. I was fortunate enough to work with several high-end residential firms before starting my own interior design business in 2011.  I enjoyed helping clients add a little "love" to their house and transforming that house into a home.  However, nothing teaches you about the house and home quite like tackling a renovation project of your own!  In 2012 I purchased my first home; and with the help of my family, I have taken a neighborhood eyesore to the shining star on the street!  House Plus Love is where a share of this crazy journey and the tips and tricks I have learned along the way! We are a source to help you add a little love to your home!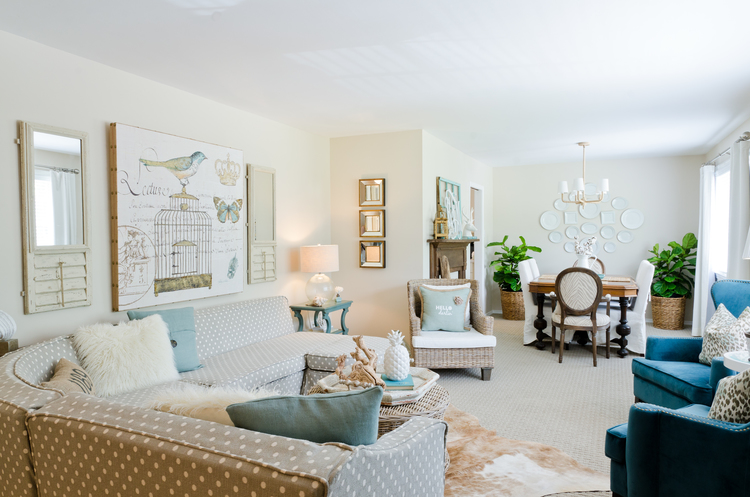 Atchison Home
About: Tony and Sylvia Atchison opened the doors to Atchison Home more than 30 years ago and are now delighted to welcome its new owners, Andy Freeman, and Jack McCown. Andy and Jack are excited to carry on the legacy and sophistication that is synonymous with the Atchison Home experience while working closely with Sylvia to continue providing timeless and modern elegance to our clients. Our team continues to travel to markets and warehouses across the world to find inspiration and unique treasures for our customers that encapsulate the timeless quality, casual elegance and inviting comfort that truly makes a house a home. With over 20,000 square feet of antiques, interiors, and accessories, we invite you to visit us and become a part of the Atchison Home experience.
Fowler Custom Homes
About: Established in 2005, Fowler Custom Homes, Inc. is a custom home builder. We serve the Gulf Coast area from Fairhope, Alabama to 30A, Florida. Although we specialize in new construction, we also work closely with homeowners to remodel their existing home.
Website: fowlercustomhomes.weebly.com
Direct Design Group
About: We are excited to introduce you to DIRECT DESIGN GROUP, the culmination of two interior design careers. Our team, Lori Lumsden and Maury Haynes specialize in creating a fresh, modern approach to coastal décor by adding a layer of innovative urban style.
Website: directdesigngroup.com
Valerie  Clark  Interiors
About: Bachelor of Science in Human Environmental Sciences from the University of Missouri – Columbia, an accredited interior design degree program. Valerie has over twenty years of residential and commercial interior design experience. In 2010 Valerie opened Valerie Clark Interiors in Fairhope, Alabama to bring thoughtful, client-focused design solutions to selective owners of homes and offices throughout Mobile, Fairhope, and the entire Eastern Shore.
Website: www.valerieclarkinteriors.com
Salty Oak Home Interior Decorating
About: Branching out into the community and adding zest to spaces in need of love.
That was the goal when Emily decided to turn her passion into a business. The inspiration behind our name, Salty Oak Home, is the idea of bringing happiness and love into homes around the community through interiors.
Do you have a space in your home that needs a little love? Not sure what this might look like? We are here for you. At Salty Oak Home, LLC, we can help you create the interior space you have always dreamed of. Whether you want to rearrange current interiors or start fresh in whole new space, we offer a variety of design services for your home.
​Our goal is to turn your space into a happy place!
Website: www.saltyoakhome.com