Top Interior Designers in Provo
Provo is the 3rd largest city in Utah. It's a beautiful place that is full of nature, history, tradition, and design; from libraries and museums to music festivals and parades. Also, it is just 10 miles away from Bridal Veil falls, in Provo Canyon. A fantastic place to go and enjoy the fresh air.
In this article, we have chosen our Top Interior Designers in Provo. Check these brilliant designs!
Anya's decor
About: Our goal here is to create functional and beautiful spaces, by bringing together your style and your needs and our expertise and love of interior design. You, the client is our priority in finding the best value in esthetics, price, and quality. My desire is to build a lasting relationship that goes beyond a few weeks of us working together. Growing up in Russia, where most housing is small and creates challenges in functionality as much as in esthetic,  I learned from my mother to create beautiful spaces. I have always had a creative mind and vision of beautifying everything around me. From making my own clothing at a very young age to building my own home in my adulthood, my europian upbringing has been the biggest influence in my love for interior design and everything that is creative. I share my home with four children, my sweet husband, and a few furry friends.  I love working on traditional, family spaces.
I believe that family homes are sacred dwellings and because of that
I take great honor and humility when you welcome me into your home.
​Website: www.anyasdecor.com
Interior concepts design house
About: Jacci began her career in the interior design business over 30 years ago. Since then, Jacci has won numerous awards such as the Parade of Homes Best Interior Design, and Best of Houzz in Design and Service. Additionally, Jacci has been a member of the Utah Valley Home Builders Association for over 20 years. She has been featured in magazines such as the Utah Valley 360 as Women in Business. With her experience and credentials, Jacci has been creating beautiful designs in Utah and the surrounding states ever since. Design is about finding and understanding the personalities of the people living in the space and then creating a beautiful environment that represents who they are, what they love and how they live.
New view design
About: We are a team of design professionals that are passionate about the revolutionary future of Virtual Reality renderings. We have the tools and experience to make the dreams for your project come to life in the most realistic way before you break ground. We have helped our clients save thousands of change orders. Using physical samples to select for your flooring, cabinets, countertops and window treatments and then the ability to show you an accurate representation of the installation early in the process, we are able to help you make the best decisions possible, without the heartache of worrying about how it will look By using our design services, renderings, and purchasing and installing your project all within one roof, we make sure you get the best treatment at a competitive price!
Blackley design
About: I LOVE WHAT I DO! Since graduating from BYU with a bachelor's degree in Interior Design, I have been fortunate to do what I love. Being an Interior Designer in Utah for over 25 years, I have been able to assist clients in creating beautiful interiors that surround them. There is nothing more rewarding than helping clients create their dream homes or workplace. My goal is to create a beautiful interior that reflects the personality and needs of each client. Budget is important to everyone and we work together to prioritize and provide the best options that fit your needs. I "Aspire to Inspire" what you desire. Let me help you create inspirational surroundings.
Website: www.blackleydesign.com
Alice Lane interior design
About: Jessica started her creative journey at Utah State University. Her studies there led to her work in an ad agency as an art director but building her home brought back her earliest passion: interior design. Jessica realized that if she could produce a brand for corporations, then she could certainly design the interiors that housed them. Jessica's interior design work led to a globally expanding tech firm sending her on a worldwide tour to design their international offices and along the way her projects snowballed as she began accepting more offers to share her talent.
Website: www.alicelaneinteriordesign.com
Kami Beck interiors
About: Kami's passion for interior design was sparked at a young age–one of her favorite hobbies was arranging and re-arranging the furniture in her Barbie Dream House. This passion was put on hold for a few years while she earned her bachelor's degree in elementary education at Brigham Young University. She taught school until becoming a full-time mom in 1995. During the next several years, she moved a number of times with her growing family, and each time she realized how much she loved designing the rooms that would turn their house into a home. The desire to create beautiful spaces carries into her work today, some of which have been featured on social media sites of companies such as Pottery Barn Teen. Her specialty is understanding each client's unique personality and combining their tastes with professional style to create welcoming, one-of-a-kind spaces just as she has been doing for her family and friends for over twenty years.
Website: www.kamibeckinteriors.com
Studio Mcgee
About: Studio McGee is a full-service interior design firm that designs homes from concept to completion all over the US. We have garnered a reputation for beautifully balanced spaces that feel refreshingly modern and endlessly classic. We create custom interiors for full new builds and renovations that stand the test of time. Based out of Salt Lake City, our team has designed hundreds of projects across 33 states (and counting), which has led us to develop and refine a seamless process to help our clients navigate each step. Our designers collaborate from the floor plan development, interior drawings, custom cabinetry, finishes, and selections: furniture, window treatments, styling, and turn-key installation.
Website: www.studio-mcgee.com
Design Hintz
About: Design Suited for Your Lifestyle. At Design Hintz we want your home to reflect your personality and lifestyle. Awards & Nominations: 2018 Parade of Homes Judges Choice Winner
Website: www.designhintz.com
Cityhome Collective
About: Highly-skilled and wildly-meticulous, we're comprised of some pretty great stuff. Should you wander into our office on any given day, these are the designers, realtors, and creatives you'll find. Our holistic approach is inspired, but our clever manner is paired with a vast knowledge of the industry. Think of us as the romantic train stop where marketing savvy meets statistical reality. Sellers and buyers, alike, can benefit from honed negotiation techniques and a keen eye for what's good.
Website: cityhomecollective.com
Tunson interiors
About: Tunson Interiors reflects the diversity, individuality, style, and beauty in small details in living and breathing spaces. Each detail is carefully thought out for every part of the Interior Design process to create an overall unique and personalized space for every client. Whether building a new residence from the ground up, remodeling an existing space, or just wanting to change up the style in a few areas, the process can seem very overwhelming, but at Tunson Interiors, you will have a step by step guide, clear communication throughout the process, easy to read visuals and a fun experience.
Website: www.tunsoninteriors.com
Shearer designs
About: Shearer Designs is focused on creating stylish, affordable and inviting spaces that work with your lifestyle. Start with an initial consultation that can lead to a design plan for your space or take it to the next level and let us develop your space using our team of professional contractors and subcontractors and then complete your project with our stylish decorating team. I help clients make the best decision based on construction, quality, cost, and design.
Website: shearerdesigns.com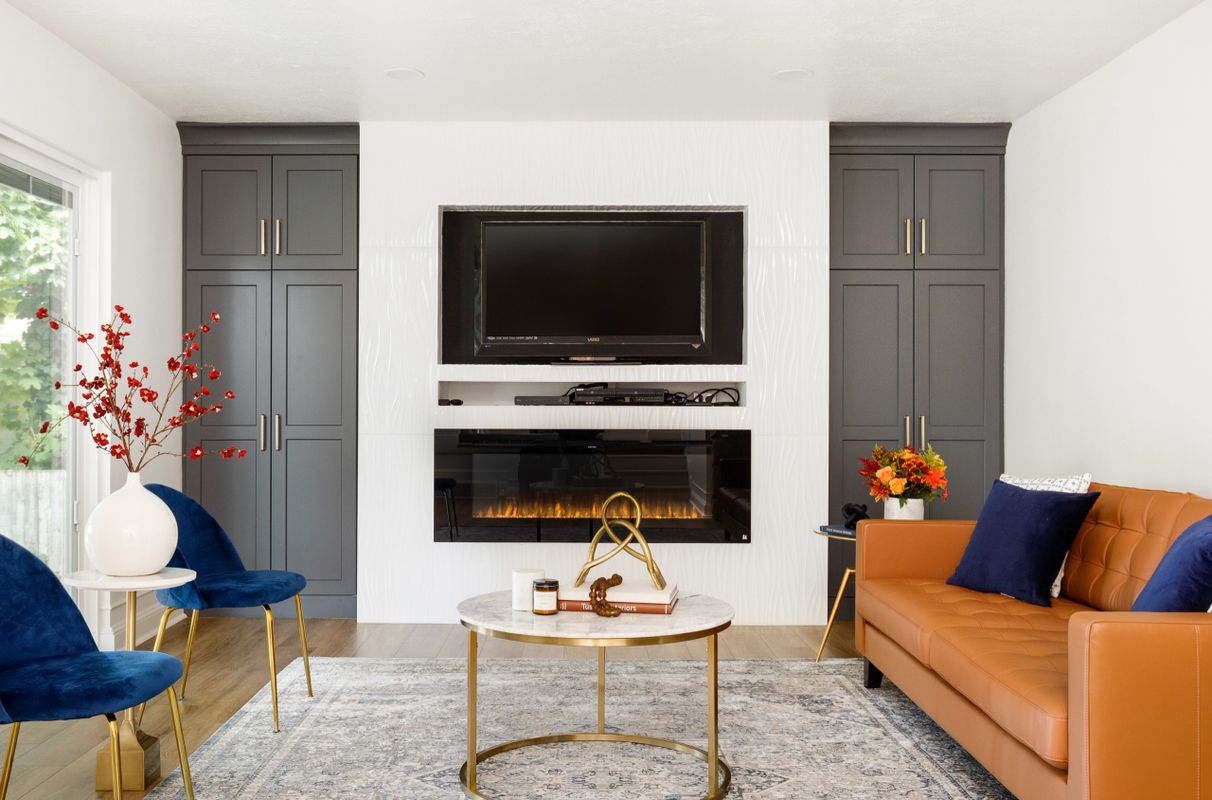 Lisman studio
About: Lisman Studio was founded in 1993 by Principal Designer and CEO LaMar Lisman. Since it's conception, Lisman Studio has become locally and nationally recognized as a leading Interior Design Firm. Innovative techniques, customized interior planning, and impeccable service have allowed Interior designer LaMar and his team to skyrocket to success and maintain a strong and loyal clientele. Providing authentic and mindful spaces that are 100% customized to each client has been and always will be the number one priority for the designers at Lisman.
Website: lismanstudio.com
Simons design studio
About: Simons Design Studio strives to render quality design services with integrity and skill, and to leave each client with a final product that's just as beautiful as it is functional. We know that the homiest spaces are the ones that are a reflection of you, and we're ready to become collaborators in building the space you've always envisioned. Design is all about the details. If you know what you want, we'll make it happen. If you don't, our team of experienced interior designers will show you the way.
Website: simonsdesignstudio.com
Kimberly Parker design
About: With a BFA degree in interior design and 20+ years experience in the design industry, Kimberly has filled the roles of an architectural designer, independent contractor, construction manager, and has also utilized talents as a faux painter, seamstress, and floral designer.  Designing in the Salt Lake City Metro area, park City and Alpine, Utah.  At Kimberly Parker Design, beauty is what we specialize in: from floor plans and finishes, to complete furnishings, we create each home as unique as its homeowner.  Design is our passion.  What can we design for you?
Website: kimberlyparkerdesign.com
Alder & Tweed
About: Alder & Tweed is a luxe, yet approachable, design firm specializing in premier, luxury residences, communities and hospitality projects. As a family-owned business with over 40 years of experience, our comprehensive service offering provides a unique, seamless experience for all of our clients. Alder & Tweed has offices in Park City, Utah; Big Sky, Montana; Amenia, New York. Our accomplished design team aims to give our clients a one-of-a-kind design and experience, that focuses on impeccable service from concept to installation. We seek to ensure that every detail is taken care of, and every need, not only met but surpassed. With this philosophy, Alder & Tweed has expanded to work with clients across North America and throughout the world. We look forward to working with you and providing you with the Alder & Tweed experience.
Aubery Veva Design
About: I am a wife of seven years,  mother of 2, and a passionate interior designer. Growing up as a daughter of a general contractor, my passion, knowledge, and artistic eye have been developed over years of experience. I received my formal Interior Design training and degree after being educated at the LDS Business college and Utah State University. Aubrey Veva Design proudly opened its door in Fall 2013. Through the gift of creativity, I have been blessed with the persistent desire to better and beautify the world around me.
Website: aubreyvevadesign.com
The room co.
About: Founded by award-winning interior designer Erin Ebert, The Room Co. employs a team of multi-faceted interior designers whose work has been garnishing recognition for over a decade. We're passionate about interior design and pledge our best professional efforts on every project we take on. Every space has the potential to be even more than a work of art. Thoughtfully designed interiors can greatly influence our mood, productivity, mindset, and even health. Whether your project is residential, commercial, hospitality, or healthcare, thorough planning from a professional interior designer is a critical key to making it successful.
Website: www.theroomco.com
House of Jade interiors
About: The House of Jade story begins 8 years ago when Erin and Kirsten started working together as a team. Erin's background in sewing and textiles added to Kirsten's background and agree in Interior Design. The two quickly found that the strengths each of them brought to the table could not only create beautiful spaces but an amazing business as well.  Since starting House of Jade Interiors the business has been featured in numerous online and in print publications including Utah Style & Design, HGTV Magazine, Sunset Magazine and more. House of Jade specializes in new construction and remodels. Creating homes from the ground up is where they see the greatest results. They take pride in being great listeners and they recognize the process of creating your dream home is all about the partnership between designer and client. At House of Jade Interiors, they believe a home needs to be functional, beautiful and timeless.
Website: houseofjadeinteriors.com
Hamilton Park interiors
About: Hamilton Park, Inc. was established in 1998 to provide quality home furnishings and personalized design services to homeowners in the Intermountain West.  Over the years we have evolved from a showroom featuring furniture from one manufacturer to Hamilton Park Interiors with curated collections of home furnishings that reflect the style and lifestyle of our customers. Hamilton Park Interiors specializes in helping clients create a comfortable, beautiful home.  Quality home furnishings and personalized design services.  One comfortable, beautiful home at a time.
Website: www.hamiltonparkinteriors.com
Natalie Miles Design
About: Natalie Miles Design will treat you to a taste of how your home can take on a character all its own with a truly genuine "signature" style. Whether your design style is Modern, Traditional, Transitional, Contemporary, European, Mediterranean, Eclectic or French Country, we will capture that special blend of elements that is stamped with your "signature" style.
Website: www.nataliemilesdesign.com