The Ultimate Guide to Floor Lamps in 2020
We all know that picking the right home decor can be a daunting task. It's the same with lighting. There are so many lamps out there – which ones do you choose? Argh. If you are struggling with this same problem – then struggle no more! In this guide, we have compiled every single piece of info you need to know about floor lamps. We are hoping that this guide will make it so much easier for you to pick out your dream lighting and make your space your own.
Which features should my ideal floor lamp have?
Which type or shape of floor lamps should I pick?
There are a variety of floor lamp types and here we are going to cover them all.
Torchiere / Pole Lamp
This is the most common type of floor lamp. It stands on a long pole and can have a variety of shades and shade material on top. It's perfect for pointing your light up and lighting up your entire space.
Tripod
A tripod is a lamp that stands on three legs. True, this term is used more often in the photography or film industry, but hey! Tripod lamps are super slick. They are very popular with mid-century modern design and their advantage is that they are much lighter and easier to move around. Tripod lamps are versatile, you can use them for any space.
Arc Floor Lamp
This is one of the classiest floor lamps around. Arc or arching floor lamps have a long arch-like arm that is perfect for placing near couches and reading corners. They also usually point their light downward so they are great for lighting up a specific area of your room. They provide that special ambiance to your living room, bedroom, or a cozy reading nook.
Swing Arm Lamp
But what if you want to adjust your reading lamp? This is why smart people that came before us invented the swing arm floor lamp. It's a lamp with a swinging arm that you can adjust to fit your height or shape. These guys usually have a more farmhouse or rustic look to them. You can even find some industrial looking ones too.
Tower Lamp
This lamp is a shelf lamp with built-in shelves and lighting. It's a fantastic combination. I wonder if it was named after the CD tower (it's ancient predecessor). Does anyone remember what CD's are anymore? 😅
Table Lamp
Not to be confused with a desk lamp, the table floor lamp is a floor lamp with a tabletop attached to it. They are extremely useful especially if they have a wireless-charging feature. You can put them in your living room next to your couch or loveseat, or use them in the bedroom as a nightstand.
Multi-Way or Tree Lamp
The multi-way or tree lamp is a torchiere floor lamp that has more than one head. These lamps are superb at lighting up whole rooms and you can take one of the heads and bend it down to point at your desk or book or stylish mug. Whatever floats your boat.
Task Lamp
This is a general term for a lamp that is used for a specific activity. So normally these lamps have heads that point downward. You can use a task floor lamp for reading, (or for tasks, duh), sewing, crochet, or carefully studying your kid's report card before putting them on detention.
How do I pick the right base for my floor lamp?
Bases come in all shapes and sizes, and today we are going to cover them all. Bases also usually are either metal or plastic or made out of solid marble. We don't want to brag but a lot of our lamps come with gorgeous marble slabs as bases.
Circular base
Some of our lamps like the Mason arc lamp come with a beautiful circular base. This one is easier on the toes and the kids roaming around.
Rectangular base
Some lamps come with a rectangular base (like the Logan arching lamp). We recommend wearing heavy army boots when walking around these sharp edges, or placing the lamp behind a couch.
How do I pick the brightness of the light bulb?
The brightness of your light bulb is measured in lumens (don't confuse that with lemurs). Most people are used to looking at the watts or wattage of a light bulb but in fact, that's just the measure of the amount of energy that the light bulb uses. For brightness, you have to look at the lumens. The average light bulb that you need should have between 60-75W or 800-1100 lumens. Here's a really helpful chart to compare the difference: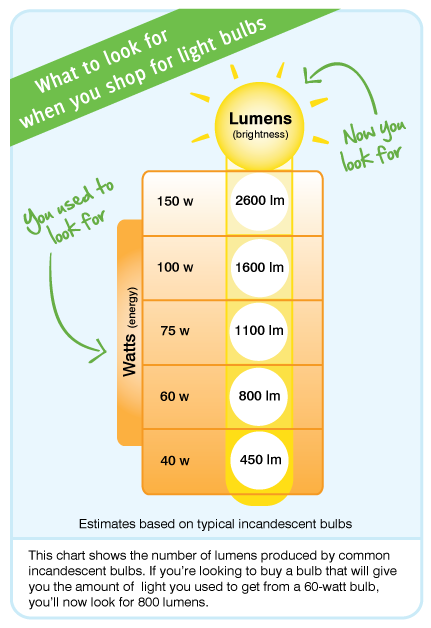 How do I pick the light color of the light bulb?
Light bulbs come in a variety of colors. The color refers to their color temperature which ranges from an orange-yellowish glow to a cool white glow that we normally associate with LED's. A common misconception is that all LED's come in cool white and it's actually not true. You could get an LED bulb in a variety of colors. Look for the number of Kelvins that your bulb emits. If you want something warm like warm or soft white go for something 2700K or below. If you want to have something whiter like cool white look for anything over 3000 K. Below is a really useful diagram to demonstrate the differences in color temperature.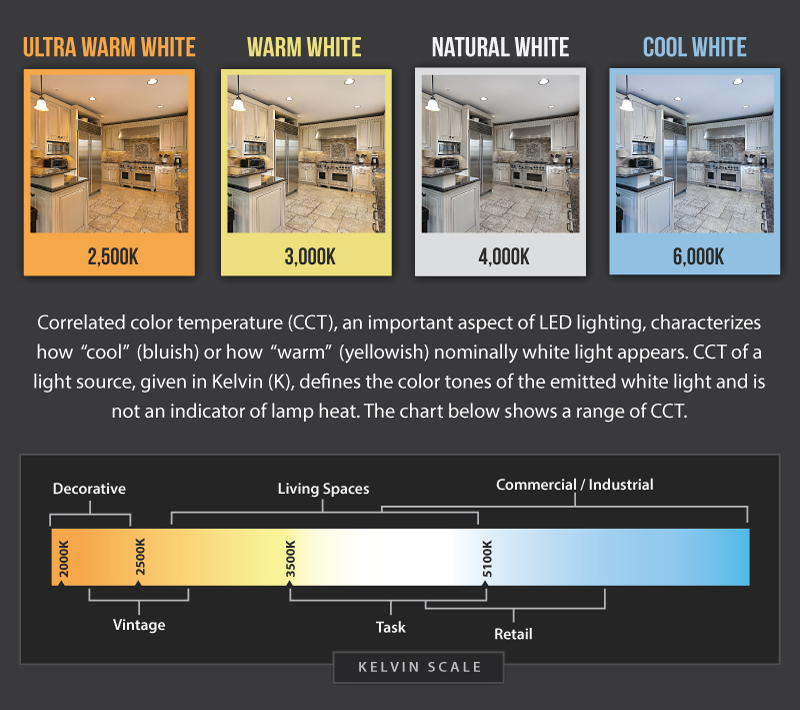 How do I pick the perfect height for my floor lamp?
Floor lamps come in all shapes and sizes but there are some general rules. Reading floor lamps and tripod lamps are usually the shortest and are about 40-65 inches tall. Torchiere and pole lamps, the type that are the most common in your living room and dining room areas are usually between 60 and 70 inches tall. Arc or arching floor lamps, also known as over the sofa lamps are anywhere between 70 and 85 inches.
What material should my floor lamp be made out of?
Most floor lamps are made out of metal and/or wood. Sometimes a lamp can be made out of parts metal and parts wood. Most of the time the lampshade is made out of metal, glass or cloth. The cheaper lamps you can find in department stores can sometimes be made of plastic and they are much less sturdy. So be aware of those. We recommend going for a $60+ lamp that's sturdy and safe for you and your loved ones.
What is the perfect shade material for my floor lamp?
The most common lampshades are made out of fabric. You can find those everywhere. That's the material that we use for all of our lampshades. If you want to go cheaper then you could probably find lamps in large department stores with plastic lampshades. But those are less stylish and break easier. They can shatter if you are not careful, while the fabric lampshades are bendable and don't tear as often.
What is wireless charging and do I need it?
Wireless charging is a technology that came out a few years ago that lets you charge your electric device wirelessly. It's a really big step up from the wire chargers that we have lying around everywhere and keep breaking on us. There is virtually nothing that could break in a wireless charger. Some lamps have wireless chargers built-in so you could place your smart device while you're at home and not have to plug anything in.
Which lamps have a USB plug?
Both floor lamps and table lamps have USB plugs. Sometimes even string lights could have it. USB plugs are used to charge any device you have, especially useful if you have an older smartphone that doesn't have the wireless charging capability. Floor lamps with USB plugs are great to put in your reading corner, in the bedroom next to your bed, or in the kitchen. Where you can easily access them and charge your device.
Should I get a dimmable floor lamp? And how do I know that my lamp is dimmable?
Dimmable floor lamps are a total hit these days. When you want to turn down the lights a bit, instead of switching from a floor lamp to a table lamp or turning on a night light, you could simply dim your floor lamp. It provides convenience and a lot of customization to your lamp, you could truly make it your own. If your floor lamp is dimmable it should have the setting built-in. If you play around with the switch you will see that you can dim the lamp. Otherwise, there is no external hardware or capability that you could install to make it dimmable.
What is the perfect price for a floor lamp?
Floor lamps come in all shapes and sizes and the price varies depending on the quality. The lowest quality of floor lamp you can find is around $40-60. Then on the other side of the spectrum is designer lamps worth $200-500 with intricate features and super high-quality materials. Brightech takes the quality and material of the high-end lamps and brings them down to $69-129 for your convenience. We are able to cut out all the middlemen and mark-up and offer you the same high-quality floor lamps but for 80% off the price.
How do I select the right design style of floor lamp?
The design of your floor lamp should depend on the design style of the room you want to put it in. If you don't have any idea what design style you currently use I would recommend uploading a picture of your room into Pinterest using the reverse Pinterest search feature. When you do this, Pinterest will display images similar to your room, and you will be able to find what design style you have. Then you can simply search for the best floor lamps that fit that design style.
Should my floor lamp have a footswitch?
Imagine you have a reading lamp that you put behind your sofa, in the corner of your living room. If you want to turn it off you have to reach around your sofa, and try to find the switch. It's so uncomfortable and inconvenient at times. That's why you should get a reading lamp with a footswitch. The switch is right in the middle of your cord and you can place it in a more convenient spot and hit it with your foot to turn the lamp on and off. The Brightech Mason arc lamp below is a great reading lamp that comes with a footswitch.
What's the perfect floor lamp for my room?
Ah, this is the age-old question. Here are some of the best floor lamps to fit each of your rooms. And if you don't have some of these rooms, well… it's time to find a bigger place! Let's go! Call your realtor!
Best floor lamps for your bedroom
The bedroom is a place of quiet and serenity. It's important to create the proper ambiance and it totally depends on the layout and size of your bedroom. Torchiere lamps are the classic solution for any room but if you want a little more style we recommend reading lamps or arc lamps for the corners of your bedroom. Also, you should consider using a table floor lamp as a nightstand (say that 5 times in a row.. 🙃). In the shot below we have our beautiful Leaf lamp with a stylish nickel finish.
Best floor lamps for your living room
Your living room is the common room in the house where people do lots of different things. That's why it's important to pick a floor lamp that shines upward so that the light will bounce off the ceiling and illuminate the entire room. The best lamps to use our torchiere lamps like the Brightech Luna or Sky to illuminate your entire living room. Another great floor lamp to use is a reading lamp to illuminate a specific corner in your room.
Best floor lamps for your kitchen or dining room
It's really best to have overhead lighting for your dining room. But if you don't have that or want to create something more stylish then you should use an arc lamp. An arc lamp is shaped like a wide arc and then the top of the lamp comes down and points downward.
Best floor lamps for your office
We recommend using torchiere floor lamps in your office. They usually are the thinnest and most inconspicuous, saving you lots of office space. Also, there are no extra wires to trip on. And most importantly, they point up so the light fills the entire room and keeps your entire office nice and lit. Get one with a dimmer so you could dim the light when you need to.
Best floor lamps for your reading corner
Reading lamps are fantastic and you could definitely have a table lamp on a nice corner table next to your couch. But if you are looking for floor lamps we recommend any lamp with a shade, especially arc or arching lamps. Brass and antique bronze lamps are really great to use as they go with lots of different decor styles. We also recommend having a dimmer so you could switch your lamp between reading mode and regular mode (when you need the full light for the room). Below is our Montage Modern floor lamp in antique brass.
Best floor lamps for your outdoor area (patio/balcony/backyard)
If you're looking for a lamp for your outdoor area you have to first figure out if it's covered or not. If your area is not covered you will need a waterproof outdoor lamp and they exist! You can find one online. However, if your outdoor area is covered then any indoor lamp would do! You could really spice up your patio with a beautiful Mason arc lamp (pictured below).
Best floor lamps for your nursery or baby room
What are the best floor lamps for your nursery or baby room? Torchiers are the best choice for this room in your house. They are the most stable and safe for your children and they easily fit in a corner. There are a bunch of styles and colors that torchieres come in so it's a very versatile, easy to set up lamp type that could fit any design style.
Safety Concerns
How do I baby Proof a floor lamp?
Childproofing your floor lamp is much easier than you might think. The first thing you should do is to safely secure the pole of the lamp to a solid surface like a wall. You can use a simple hook and tie a rope to it. This will prevent the baby from shaking the lamp and having it fall down.
The second way to childproof your floor lamp is by securing the wall plug and the cord. Use an outlet cover to cover the outlet, a cord shortener to shorten the cord and a plastic channel to cover the remaining cord.
Can you put a floor lamp on the carpet?
Yes, you absolutely can. Just make sure that the base of the lamp is heavy enough for it to remain upright. All the bases of the Brightech lamps are specially weighted to maintain the balance of the lamps.
If my floor lamp is hot what do I do?
It could happen that the bulb could get a little bit hot. In case this happens often, consider switching from an incandescent bulb to an LED bulb. LED bulbs stay much cooler than incandescents because all their heat is pulled away by a heat sink in the base of the bulb. That's the reason why LED bulbs can not catch on fire, so they are significantly safer than the alternative.
Fixing and Replacement
Where can I replace parts of my floor lamp?
Most lighting companies offer replacement up to a certain time from purchase. They should all be able to replace specific parts of your lamp if they come damaged or break in your home. Unfortunately, online marketplaces like Target and Sears won't replace the lamps for you so you should definitely buy lamps from lighting companies or suppliers directly. At Brightech, we have a 5-year full warranty on every one of our lamps and replacement parts at the ready for all of your lamp purchases.
Is there a warranty on floor lamps?
When you are picking a floor lamp make sure that it comes with a warranty. And make sure that the warranty covers everything and lasts long enough to make it worth it for you. Here at Brightech, we offer a full 5-year warranty on every part of your floor lamp. So if you have any issues, we are here for you!
Recap
We hope that this guide has been helpful to you in picking the perfect floor lamp for your home. If you have any other questions or if we've missed something please leave us a comment below 🙂